College Research Day Features Authority in Zoo Reproductive Management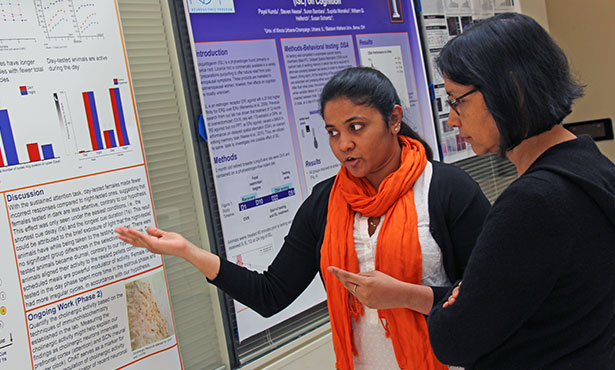 Celebrate research at the college on April 20
Dr. Cheryl Asa
, who pioneered the field of wildlife reproductive research, will deliver the keynote address, entitled "The Role of Reproductive Management in Maintaining Sustainable Animal Populations: The Need for Translational Science," at the annual
Research Day
celebration at the University of Illinois College of Veterinary Medicine on April 20.
The topic is highly relevant to college research initiatives, which include strengths in reproductive biology at the molecular and cellular levels, clinical reproductive strategies in domestic species, translational medicine in cancer and other fields, and a host of studies investigating the intersections of wildlife, environmental, and human health.
Research Day provides an opportunity to recognize research achievements of graduate students with college-sponsored awards and to initiate new members into the Illinois chapter of Phi Zeta, the honor society of veterinary medicine.
Six students and trainees from the college, selected on the basis of submitted research abstracts, will also give presentations. Based on the quality of their presentations, three of the speakers will be awarded $1,000 for use in research-related activities.
The speakers and their topics are:
Sushmitha Durgam, Second Harmonic Generation (SHG) Imaging Provides Quantitative Analysis of Collagen Alignment in Healing Equine Flexor Tendons
Qingzhan Zhang, Dual Functions of the Nonstructural Protein 1 of Porcine Epidemic Diarrhea Virus for Degradation of CREB-binding Protein and Suppression of NF-kB Activity for Innate Immune Modulation
Sharada Mahalingam, Equol Inhibits Growth, Induces Atresia, and Inhibits Steroidogenesis of Mouse Antral Follicles In Vitro
Robin Holland, Fighting for the Heart of the Cell: Pathogen vs. Host Cell Control of Mitochondria
Kate Echeverria, Pharmacokinetics and Pulmonary Disposition of Minocycline in the Adult Horse
Alycen Lundberg, Investigating the Use and Tolerability of the Novel Drug Isobutyrl-Deoxynyboquinone (IB-DNQ) in Feline Oral Squamous Cell Carcinoma
Research Day wraps up with a lunch and poster session in the Atrium of the Veterinary Medicine Basic Sciences Building. The event is co-sponsored by Phi Zeta and the College of Veterinary Medicine Office of Research and Advanced Studies.
For a full schedule and a link to the registration page, please see the Research Day page.