College Hosts Box Turtle Conservation Workshop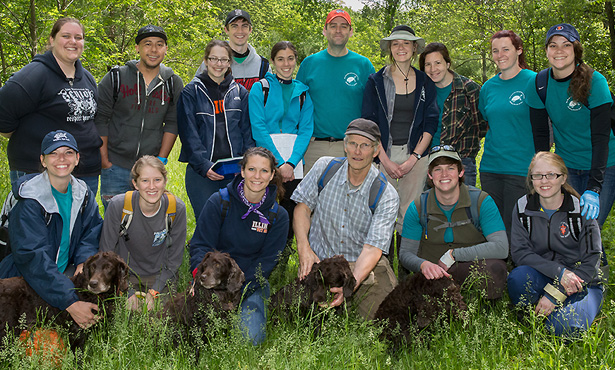 The University of Illinois College of Veterinary Medicine Wildlife Epidemiology Laboratory is hosting a 2016 Box Turtle Conservation Workshop on May 19-21. The workshop will focus on box turtle epidemiology, with areas of interest including population trends, ecology, life history strategies, and systematics.
Due to the declining populations of box turtles, the goal of the workshop is to spread information that will help produce more effective strategies for box turtle conservation. There is a full slate of presentations on research and education scheduled for Friday and Saturday, including the keynote speaker Dr. Rod Williams, an associate professor of wildlife science at Purdue University.
On Thursday, a field trip to collect chelonian tissue and two wetlabs on turtle shell repair and chelonian clinical sampling will be available.
"Wetlab participants will accompany the Wildlife Epidemiology Lab's turtle team in assessing the health of box turtles using trained search dogs. In the evening, participants will learn turtle shell repair techniques by repairing 3D-reconstructed shells designed from CT scan of wild box turtles," says Dr. Matt Allender, director of the lab.
This is the fifth in a series of workshops aimed at bringing together individuals actively engaged in box turtle research and conservation. Dr. Allender, a clinical assistant professor of comparative biosciences, says they are excited to have "the continents' foremost experts in box turtle natural history, behavior, movement, and health together for a single purpose of improving conservation efforts."
Learn more and register for the box turtle conservation workshop.
—Nora McKay