College and Alumni Association Honor Five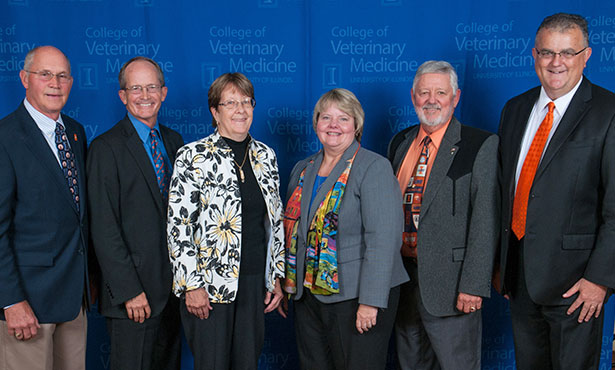 The University of Illinois College of Veterinary Medicine and its alumni association presented four Dr. Erwin Small Distinguished Alumni Awards and a Special Service Award on September 17 during the college's annual Fall Conference for Veterinarians.
The awardees are Dr. Wayne Anderson, Dr. Maureen Birmingham, Dr. Clyde Dunphy, and Dr. Gail Golab, recipients of the Dr. Erwin Small Distinguished Alumni Award, and Dr. Ann L. Johnson, winner of the Special Service Award.
Shown in the photo above, from left: Dr. Bill Augustine, president of the Veterinary Medical Alumni Association; Dr. Anderson; Dr. Johnson; Dr. Golab; Dr. Dunphy; and Dr. Peter Constable, dean of the College of Veterinary Medicine. Dr. Birmingham was unable to attend the awards ceremony.
The Dr. Erwin Small Distinguished Alumni Award recognizes distinguished graduates who have made significant contributions to the veterinary profession or the college. It was created in honor of professor and associate dean of the Illinois veterinary college, Dr. Erwin Small, who dedicated his entire career to the veterinary profession as professor and associate dean of the University of Illinois College of Veterinary Medicine.
The Special Service Award honors an individual or organization that has made significant contributions to the advancement of the veterinary profession or to the college.
The honorees represent a range of career paths and achievements:
Wayne Anderson, Class of 1979, has grown the Glendale, Ariz., clinic he founded in 1984 with classmate Dr. Jim Prater into a cooperative of 20 privately owned veterinary clinics, branded as AzPetVet. This cooperative—with 80 veterinarians, the largest private employers of veterinarians in Arizona—provides mentoring, continuing education, and a pathway to practice ownership for veterinarians. Dr. Anderson has held every office in the Arizona Veterinary Medical Association, demonstrating exceptional leadership in legislative relations and fundraising. He has also donated his time and financial support to the county animal care and control office as well as to an organization dedicated to helping at-risk youth through pet therapy.
Maureen Birmingham, Class of 1983, currently serves as representative of the World Health Organization and Pan American Health Organization in Argentina. Her career exemplifies the global health impact of the veterinary profession. She has worked in Haiti and Bolivia to help subsistence farmers, in Africa as part of the Epidemic Intelligence Service of the Centers for Disease Control and Prevention, for the World Health Organization in Switzerland on polio eradication, in Thailand on emerging diseases and as the WHO representative, and in Mexico, overseeing the WHO/Pan American Health Organization office and addressing a wide range of public health issues, from childhood obesity to addiction prevention and treatment. Along the way Dr. Birmingham earned a master's in public health degree from Harvard University and completed a preventive medicine residency with CDC while in Geneva.
Clyde Dunphy, Class of 1974, has devoted his life to delivering quality animal care and advancing the veterinary profession. He spent his first 21 years after graduation working in mixed-animal practices, including 17 years at a practice he founded in Carlinville, Ill. In 1995 he joined Dr. Will Wright at a small animal practice, Capitol Illinois Veterinary Services, in Springfield, Ill., and in 2000 he completed the college's Executive Veterinary Program for Small Animal Medicine. Dr. Dunphy has served as president of the Illinois State Veterinary Medical Association and has been an enthusiastic advocate for the College of Veterinary Medicine as well as a mentor for its students and graduates.
Gail Golab, Class of 1991, was a charter diplomate, and served as president-elect, of the American College of Animal Welfare. She is also boarded in animal welfare in Australia. An internationally recognized expert in animal welfare, Dr. Golab has mentored and educated veterinarians in this field and has held leadership roles in many animal science, food production, and restaurant organizations as well as the "Humane Hollywood" program and the laboratory animal research roundtable. After practicing for a time at the Downers Grove Animal Medical Clinic, Dr. Golab became an assistant editor in the Publications Division of the American Veterinary Medical Association in 1995 and in 2007 was named the director of the Division of Animal Welfare. She is active in organized veterinary medicine at the state and local levels.
Ann L. Johnson, professor emerita of small animal surgery at the College of Veterinary Medicine, is recognized internationally as a veterinary orthopedic surgeon, speaker, and educator. A diplomate of the American College of Veterinary Surgeons, Dr. Johnson held many offices in that organization, including president and chair of the Board of Regents. She also served as president of the prestigious Western Veterinary Conference and co-authored several standard textbooks on small animal surgery. In her 30-year career at Illinois she was a pioneer in developing effective clinical training approaches that minimized the use of live animals, a path that helped lead the way for the innovative Illinois veterinary curriculum. She completed a DVM at Purdue University and surgical residency training and a master's degree at The Ohio State University.