City of Markham Declares Day in Honor of Dr. Jorg H. Hoogeweg ('58)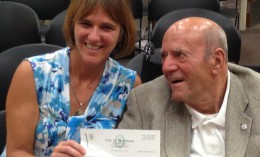 The City of Markham, Illinois has proclaimed October 10, 2015 to be "Dr. Jorg H. Hoogeweg Day" in honor of alumnus Dr. Jorg H. Hoogeweg (DVM '58), who is turning 90 on that date. Dr. Hoogeweg founded the Markham Animal Clinic, which just celebrated its 50th anniversary. Dr. Hoogeweg is joined in his practice by daughter Dr. Heidi Hoogeweg (DVM '83), who serves as the Hospital Director. Congratulations to Dr. Hoogeweg!
If you have news to share or would like for us to feature an alum on the college's website, please
submit a story
or contact
Mindy Spencer
, Associate Director of Alumni Relations.