Campbell Coauthors Definitive Small Animal Dermatology Text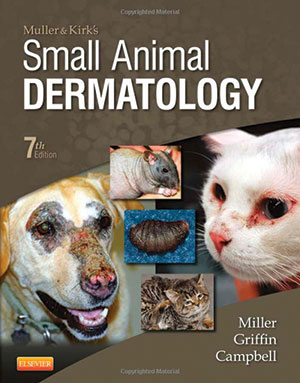 "For many years Muller and Kirk's Small Animal Dermatology (aka 'the bible') has been our standard text," wrote Dr. Tim Nuttall, a senior lecturer in dermatology at the University of Edinburgh's School of Veterinary Studies, who reviewed the new seventh edition of the book in the September 2013 issue of The Veterinary Journal.
The reviewer goes on to say "this is a completely new book rather than just another edition. The authors have done a fantastic job in keeping faith with the original, but have succeeded in revising the contents and format fora new generation."
The seventh edition is the first that included Dr. Karen Campbell, longtime Illinois faculty member and head of the veterinary clinical medicine department, as a co-author, along with Dr. William Miller and Dr. Craig Griffin. The text covers the diagnosis and treatment of hundreds of dermatologic conditions in dogs, cats, and pocket pets and includes more than 1,300 full color images. The publisher is Elsevier.
Learn more at  go.illinois.edu/kcampbell