Directory Profile
Campus Directory
Profile Editors
The following people can edit this profile: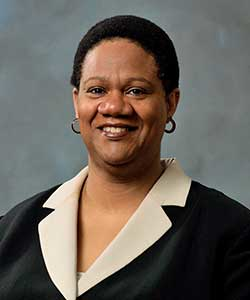 Johnson-Walker, Yvette Joyce
Clinical Instructor, Veterinary Clinical Medicine

Address and Contact Information
227
LAC
1008 W Hazelwood Dr
Urbana
,
IL
61802
Education
PhD, Michigan State University, East Lansing
DVM, University of Illinois
MS, University of Illinois
Research Interests
Veterinary clinical epidemiology and infectious disease outbreak investigation; geographic information systems as a tool for disease surveillance and monitoring environmental impacts of agriculture; and international programs to enhance health and productivity for farmers with limited resources.
Courses Taught
Epidemiology
Food Safety and Public Health
Issues in Clinical Research
One, Medicine, One Health: Public Policy
Colloquium - Biosecurity in the Clinics
Poultry Rotation
Clinical Correlations
Ecosystem Health
Selected Publications
Johnson YJ, Herrmann JA, Wallace RL, Troutt HF, Myint MS. Development and Implementation of a functional exercise to assess public health agency response to foodborne bioterrorism. J of Homeland Security and Emergency Management. 2009. Vol 6 No.1/49.
Herrmann JA, Johnson YJ, Troutt HF, Prudhomme T. A Public-Policy Practicum to Address Current Issues in Human, Animal, and Ecosystem Health. Journal of Vet Med Education. 2009 Vol 36 No. 4 397-402.
Grants
Endogenous Avian Leukosis Virus as a risk factor for ovarian adenocarcinoma in layer hens.
Transmission of methicillin-resistant Staphylococcus species among pets, clients, and personnel in a veterinary clinic setting.
Honors and Awards
List of Teachers Ranked as Excellent by their students for Path 641: Food Safety and Public Health. Spring 2009
Service Activities
One Health Steering Committee Member
LDAP Details for

Johnson-Walker, Yvette Joyce