Directory Profile
Campus Directory
Profile Editors
The following people can edit this profile: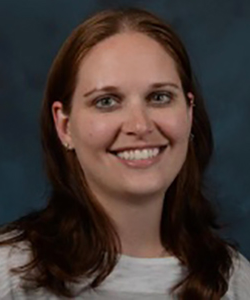 Marturello, Danielle M
CLIN ASST PROF, Vet Clinical Medicine

Address and Contact Information
1008 W Hazelwood
M/C 002
Urbana
,
IL
61802
Education
DVM (Honors), University of Illinois at Urbana-Champaign
MS (Summa Cum Laude), Michigan State University
BS (Cum Laude), University of Arizona
Professional Certifications
Diplomate, American College of Veterinary Surgeons (Small Animal)
Research Interests
Additive manufacturing (3D printing)
Mechanical evaluations of orthopedic implants
Interlocking nailing
Academic Interests
Traumatology
Minimally invasive osteosynthesis
Biography
Dr. Marturello received her Doctor of Veterinary Medicine from the University of Illinois in 2012. She completed a rotating internship at Angell Animal Medical Center in Boston followed by a surgical internship at a private practice in Colorado. Dr. Marturello then moved to Michigan to complete a year as a Research Associate under the guidance of Dr. Loic Dejardin. She remained at Michigan State University to pursue a combined Master of Science in orthopedics/biomechanics and Surgical Residency from 2015-2019. Dr. Marturello has training in 3D reconstruction and 3D printing for both research purposes as well as for clinical cases. Her current research interests lie not only with investigating 3D printing of bone-like materials, but also the applications of this technology for resident and student training.
Grants
Mechanical comparison of two small interlocking nail systems using a previously validated bone model surrogate
Characterization of the structural properties of feline femurs and evaluation of a custom surrogate bone model for mechanical testing of orthopedic implants
Biomechanical evaluation of standard non-locking and hybrid locking canine pancarpal arthrodesis plates
Selected Publications
Marturello DM, von Pfeil DJ, Dejardin LM. Mechanical Comparison of Small Interlocking Nail Systems in Torsion Using A Feline Bone Model Surrogate. Veterinary and Comparative Orthopaedics and Traumatology. 2019 May;32(S 03):A3700.
Marturello DM, Gazzola KM, Déjardin LM. Tibial fracture repair with angle‐stable interlocking nailing in 2 calves. Veterinary Surgery. 2019 May;48(4):597-606.
Marturello DM, Wei F, Déjardin LM. Characterization of the torsional structural properties of feline femurs and surrogate bone models for mechanical testing of orthopedic implants. Veterinary Surgery. 2019 Feb;48(2):229-36.
Déjardin LM, Marturello DM, Guiot LP, Guillou RP, DeCamp CE. Comparison of open reduction versus minimally invasive surgical approaches on screw position in canine sacroiliac lag-screw fixation. Veterinary and Comparative Orthopaedics and Traumatology. 2016;29(04):290-7.
Marturello DM, McFadden MS, Bennett RA, Ragetly GR, Horn G. Knot security and tensile strength of suture materials. Veterinary Surgery. 2014 Jan 1;43(1):73-9.
Professional Affiliations
AOVET
Veterinary Orthopedic Society
LDAP Details for

Marturello, Danielle M