Directory Profile
Campus Directory
Profile Editors
The following people can edit this profile: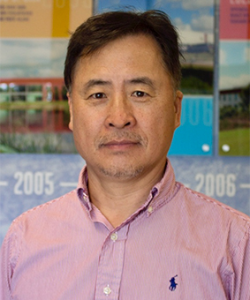 Ko, CheMyong
Professor, Comparative Biosciences
Director of Graduate Program

Address and Contact Information
3810 VMBSB
2001 S. Lincoln Ave.
M/C 002
Urbana
,
IL
61802
Education
Postdoc, University of Kentucky

PhD, Seoul National University

BS, Seoul National University
Professional Certifications
High school teacher's certificate, Seoul, Korea
Academic Interests
Pathogenesis of polycystic ovarian syndrome

Novel research and teaching methodologies
Research Interests
The program of ovulation is activated by a surge of luteinizing hormone (LH). This LH surge then induces dramatic changes in the molecular, biochemical and physical aspects of the ovary, which eventually lead to the rupture of follicle, releasing an egg. Ovulatory failure has been associated with the development of numerous disorders such as polycystic ovarian syndrome (PCOS), hemorrhagic cyst formation and hormonal imbalance, all of which are major risk factors for women's health including fertility defect. The long-term objective of my research is to elucidate the mechanism governing the breakdown and rupture of the follicle during the ovulatory process. The followings are 3 specific areas of my research interests: (1) Endothelin system in regulating ovulation, (2) steroids and prostaglandins in regulating ovulatory leukocyte infiltration and (3) key regulators of PCOS pathogenesis. The research will be mostly performed using in vivo animal models at both molecular and physiological levels. Both intra-institutional and extra-institutional collaborations will always be sought to bring advanced expertise to the research projects. Once novel findings are made from the animal studies, established collaboratory networks will be used to translate them into human benefits.
Biography
Dr. Jay Ko graduated from the Seoul National University in Seoul, Korea, with a bachelor degree in Biology education in 1986. He then served his country as an air force officer for 4 years in fulfillment of his duty as a Korean citizen. Upon completion of the military duty, Dr. Ko taught Biology and General Science for 4 years at the Gong-Hang Middle School in Seoul, Korea. During this teaching period, he completed a Biology Education master degree program at the Seoul National University. In 1994, he entered PhD program at the same University and studied Developmental Biology and Biology Education. In 1998, he graduated with a PhD degree, and moved to United States to do a postdoctoral training at the University of Kentucky, which lasted for 4 years in the field of Reproductive Biology and Molecular Endocrinology. In 2002, he took an assistant professor position in the Department of Clinical Sciences and Department of Biology at the University of Kentucky. In 2006, he was promoted to associate professor with tenure. Since then, he served his academic unit, Division of Clinical and Reproductive Sciences, as Division Director until he left the University. In 2011, he moved to the University of Illinois at Urbana Champaign, Department of Comparative Bioscience.
Teaching Statement
Dr. Jay Ko wants to share his scientific experiences with students via classrooms or any other forms of teaching. As an expert in the field of reproduction, Dr. Ko's main topic of teaching will be the core events of the beginning of life such as ovulation, fertilization and embryo development. He knows that the new information and knowledge that he teaches to his students may soon become old tales, but he knows that his students will become the front liners of generating new knowledge and therefore new teachers for next generations to come.
Courses Taught
VM603 (Structure & Function - GI Histology)

VM604 (Structure & Function - Reproductive Histology)

MCB180 (Human Reproduction & Society - Cloning & Stem Cells)

CB520/CB594 (Models in Biomedical Research)

MCB530/ANSC590 (Reproductive Seminar)

CB596/ENVS596/PATH596 (Toxicology Seminar)
Selected Publications
2014, Joseph Cacioppo, Sang-Wook Oh, Hey-young Kim, Jongki Cho, Po-Ching Lin, Masashi Yanagisawa and CheMyong Ko. Loss of Function of Endothelin-2 leads to Reduced Ovulation and CL Formation. Plos One 24;9(4);e96115 (PMID:24763822).

2014, Arnon Gal, Po-Ching Lin, Anne Barger, Amy MacNeill, CheMyong Ko. Vaginal fold histology reduces the variability introduced by vaginal exfoliative cytology in the classification of mouse estrous cycle stages. In press. (PMID:24705880).

2014, Thomas Gawriluk, CheMyong Ko, Xiaoman Hong, Lane Christenson, Edmund Rucker III. Beclin-1 deficiency in the murine ovary results in the reduction of progesterone production to promote preterm labor. PNAS 111(40):E4194-203 (PMID: 25246579).

2014, Novaira HJ1, Sonko ML, Hoffman G, Koo Y, CheMyong Ko, Wolfe A, Radovick S. Disrupted kisspeptin signaling in GnRH neurons leads to hypogonadotrophic hypogonadism. Molecular Endocrinology 28(2):225-238 (PMID: 24422632).

2014, Sheng Wu, Sara DiVall, Amanda Nwaopara, Sally Radovick, Fredric Wondisford, CheMyong Ko, Andrew Wolfe. Obesity induced infertility and hyperandrogenism are corrected by deletion of the insulin receptor in the ovarian theca cell. Diabetes 63(4):1270-82 (PMID: 24379345).

2013, Giyoun Na, Andrew Wolfe, CheMyong Ko, Hyesook Youn, Young-Min Lee, Sung June Byun, Iksoo Jeon and Youngbum Koo. A low-copy-number plasmid for retrieval of Toxic Genes from BACs and Generation of Conditional Targeting Constructs. Mol Biotechnol. 54(2):504-14 (PMID: 22945876)

2013, Sanz E, Evanoff R, Quintana A, Evans E, Miller JA, CheMyong Ko, Amieux PS, Griswold MD, McKnight GS. RiboTag Analysis of Actively Translated mRNAs in Sertoli and Leydig Cells In Vivo. PLoS One. 2013 Jun 11;8(6):e66179 (PMID: 23776628)

2012, CheMyong Ko*, Rina Meidan and Phillip Bridges. Why two endothelins and two receptors for ovulation and luteal regulation? Life Sci. 91:501-6 (PMID: 22677434)

2012, Seung-Yon Lee, Eunsook Park, Seung-Chang Kim, Ryun-Sup Ahn, CheMyong Ko, Keesook Lee. ERa/E2 signaling suppresses the expression of steroidogenic enzyme genes via cross-talk with orphan nuclear receptor Nur77 in the testes. Mol Cell Endocrinol. 362 (1-2):91-103 (PMCID: 22683664)

2012, José E. Sánchez-Criado, Kourtney Trudgen, Yolanda Millán, Alfonso Blanco, José C. Garrido-Gracia, Rafaela Aguilar, José Monterde, Juana Martín de las Mulas and CheMyong Ko. Estrogen receptor (ESR) 2 partially offsets the absence of ESR1 in gonadotropes of pituitary-specific ESR1 knockout female mice. Reproduction 143(4):549-58. (PMID: 22367588)

2012, Jongki Cho, Heyyoung Kim, Dong-Wook Kang, Masashi Yanagisawa and CheMyong Ko*. Endothelin B receptor is not required but necessary for finite regulation of ovulation. Life Sci. 91(13-14): 613-7. (PMID: 22406076).

2012, Phillip J. Bridges, Myoungkun Jeoung, Sarah Shim, Ji Yeon Park, Jae Eun Lee, Lindsay A. Sapsford, Kourtney Trudgen, CheMyong Ko, Myung Chan Gye and Misung Jo. Hematopoetic prostaglandin D synthase: an ESR1-dependent oviductal epithelial cell synthase. Endocrinology 153(4): 1925-35 (PMID 22374975).

2011, Hyunjoon, Kim, Mary C Gieske, Kourtney Trudgen, Beobgyun Kim, Jaewook Jeoung, Susan Hudgins-Spivey, Andree Krust, Pierre Chambon and CheMyong Ko.

Looking into the molecular mechanism of estrogen priming of the pituitary.

Journal of Endocrinology 210(3):309-21.

2011, Oliver Oakley, Michele Frazer and CheMyong Ko. Pituitary-ovarian-splenic axis in ovulation. Trends in Endocrinology and Metabolism (TEM) 22(9):345-52.

2011, Dong-Hee Choi, Eun Kyung Kim, Kyeoung-Hwa, Kyung-Ah Lee, Hey Young Kim, Phillip Bridges, and CheMyong Ko. Human ovarian endothelin system. Human Reproduction. 26 (5): 1171-1180.

2011, Phillip J. Bridges, Jongki Cho and CheMyong Ko.

Endothelins in regulating ovarian and oviductal function.

Frontiers in Bioscience S3. 145-155.

2010, Oliver R. Oakley, HeyYoung Kim, Ismail El-Amouri, Po-Ching Patrick Lin, Jongki Cho, Mohammad Bani-Ahmad, CheMyong Ko. Preovulatory Leukocyte infiltration in the rat ovary. Endocrinology 151(9): 4551-9.

2010, Phillip J. Bridges, Misung Jo, Linah Al-Alem, Giyoun Na, Wen Su, Ming C. Gong, Myoungkun Jeoung and CheMyong Ko. Production and binding of endothelin-2 (EDN2) in the rat ovary: Endothelin receptor subtype A medicated contraction. Reproduction, Fertility and Development 22: 780-787.

2009, Sungeun Lee, Dong-Wook Kang, Susan Hudgins-Spivey, Andree Krust, Eun-Young Lee, Youngbum Koo, Yongpil Cheon, Myung Chan Gye, Pierre Chambon and CheMyong Ko. Theca-specific Esr1 knockout mice lose fertility prematurely. Endocrinology 150(8): 3855-62.

2008, Phillip J. Bridges, Yongbum

Koo, Dong Wook Kang, Susan Hudgins-Spivey, Zi-Jian Lan, Xueping Xu, Francesco DeMayo, Austin Cooney and CheMyong Ko. Generation of Cyp17iCre transgenic mice and their application to conditionally delete estrogen receptor alpha (Esr1) from the ovary and testis. Genesis 46: 499-505.

2008, Mary C. Gieske, Hyun Joon Kim, Sandra Legan, Youngbum Koo, Andree Krust, Pierre Chambon, and CheMyong Ko. Pituitary gonadotroph estrogen receptor-alpha is necessary for fertility in females. Endocrinology 149(1): 20-27.

2006, CheMyong Ko, Mary C. Gieske, Linah Al-Alem, YunKyung Hahn, Wen Su, Ming C. Gong, Yongbum Koo and Marc Lglarz. Endothelin-2 in Ovarian Follicle Rupture. Endocrinology 147(4): 177-1779.

2004, Misung Jo, Mary C. Gieski, Charles E. Payne, Joseph B. Gieske, Ignatius Vijai, Sarah E. Wheeler, Thomas E. Curry Jr, CheMyong Ko. Development and application of a rat ovarian gene expression database (rOGED). Endrocrinology 145 (11): 5384-5396.
Other campus affiliations
Pathobiology, College of Veterinary Medicine, University of Illinois
Creative Works
The following databases were created by Dr. Ko's research team.
rOGED

(Rat Ovarian Gene Expression Database:

http://app.mc.uky.edu/kolab/rogedendo.aspx

).

This database provides immediate analysis of temporal gene expression profiles for over 28,000 genes in intact ovaries, granulosa cells, and residual ovarian tissues during follicular growth and the periovulatory period.

REPRO

(Reproductive Tract Gene Expression Database:

http://app.mc.uky.edu/kolab/repro.aspx

). This database provides immediate analysis of temporal gene expression profiles for over 28,000 genes in intact uterus, oviduct and ovary during follicular growth and the periovulatory period.

GEPRO

(Gene Expression Profiler:

http://www.mc.uky.edu/cls/ko/gepro2.html

). GEPRO is a spreadsheet-based data-managing platform for organizing miocroarray data, performing statistical analysis, and displaying the results. Using GEPRO's filtering and sorting capability, a user can easily identify differentially expressed genes, display the expression profiles of the genes of interest, and save them as tables or graphs in a user-defined folder.
Grants
2014-2019, NIH, PI (Project #3), Role of progesteron in ovarian leukocyte infiltration
2014-2016, UIUC ResBoard, PI, The role of Endothelin-2 in ovulation and CL formation.
2014-2016, UIUC ResBoard, Co-PI,Restoration of beta cell function in T1D rodents by encapsulated porcine islets
2013-2018, NIH/EPA, Co-I (Project #2), Mechanism of in utero BPA exposure on fetal gonadal exposure.
2010‐2012, RNL‐Bio, PI, Adipocyte stem cells in female reproduction role
2009‐2014, NIH, Co-PI, The MMP system in humans: localization, regulation and function
2006‐2012, NIH, PI, The functional role of endothelin‐2 in the ovulation
2002‐2010, NIH, COBRE, Co-PI, Effects of Estradiol and SERMs in the ovary
Honors and Awards
2010, Wethington Award, University of Kentucky

2009, Director of 27th University of Kentucky Symposium in Reproductive Sciences

2009, NIH CMIR Study Section

2006, Excellence in Research Award, University of Kentucky

1998, The Best PhD Thesis Award, Seoul National University

1990 The Research Teacher Award, Education Council, Seoul, Korea
Professional Affiliations
Society for the Study of Reproduction

Society of Toxicology

Androgen Excess and PCOS Society
Selected Service Activities
2012-current, Admission Committee, College of Veterinary Medicine, UIUC

2012-current, Research Advisory Committee, College of Veterinary Medicine, UIUC

2013-current, Graduate Program Restructuring Committee, College of Veterinary Medicine, UIUC

2008-2009, Tenure and Promotion Committee, College of Health Sciences, University of Kentucky

2007-2008, Chair of the CRS faculty search, College of Health Sciences, University of Kentucky

2006-2006, Chair of the CLS faculty search, College of Health Sciences, University of Kentucky

2005-2008, Faculty Council, College of Health Sciences, University of Kentucky

2005-2009, Research advisory committee, College of Health Sciences, University of Kentucky

2005-2005, Search Committee of ADR, College of Health Sciences, University of Kentucky

2004-2011, Membership committee, Society for the study of reproduction

2004-2011, Advising professor, Korean student association, University of Kentucky

2003-2011, Advising professor, Korean Bioscientist Association, University of Kentucky
LDAP Details for

Ko, CheMyong