Directory Profile
Campus Directory
Profile Editors
The following people can edit this profile: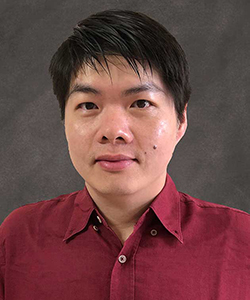 Hung, Chien-Che
Clinical Assistant Professor, Veterinary Diagnostic Lab

Address and Contact Information
2001 South Lincoln Ave.
Room 1217
2001 S Lincoln
Urbana
,
IL
61802
Education
PhD, Cornell University
MS, National Chung Hsing University, Taiwan
DVM, National Chung Hsing University, Taiwan
Professional Certifications
Diplomate, American College of Veterinary Microbiologists (Bacteriology & Mycology)
Diplomate, American College of Veterinary Microbiologists (Virology)
Industry Positions
Head of Microbiology, Asia Veterinary Diagnostics Inc., Hong Kong
Academic Interests
Post-Doctoral Associate, Cornell University
Research Interests
Research in Dr. Hung's lab focuses on bacterial and fungal disease diagnosis, especially on pathogen identification, antimicrobial resistance, and new diagnostic methods development. His research has also focused on the bacterial pathogenicity of Salmonella to seek understanding the mechanism by which this foodborne pathogen to regulate its virulence genes expression to response to the signals in the host's intestine.
Biography
Dr. Hung is a diplomate of the American College of Veterinary Microbiologists (ACVM) in bacteriology, mycology and virology. He received his bachelor of veterinary medicine degree and a master degree from National Chung Hsing University, Taiwan. In 2006, he joined the Comparative Biomedical Science program at Cornell University for his Ph.D. and his research focused on bacterial pathogenesis, specifically in salmonellosis. After graduation, he continued to be a postdoctoral researcher at Cornell while concurrently obtaining the clinical microbiology training from the New York State Veterinary Diagnostic Laboratory located on Cornell campus. In 2017, Dr. Hung moved to Hong Kong and worked in a commercial laboratory as the Head of Microbiology. There, he provided the microbiology services for Hong Kong and Singapore veterinary communities, including the companion and exotic animal hospitals, zoo and racing horse club. In 2019, Dr. Hung joined the University of Illinois Veterinary Diagnostic Laboratory (VDL) as an Assistant Professor and worked with Dr. Carol Maddox and the VDL microbiology team to provide the bacterial and fungal diseases diagnostic services.
Selected Publications
Hung CC, Eade CR, Betteken MI, Pavinski Bitar PD, Handley EM, Nugent SL, Altier C. Salmonella invasions is controlled through the secondary structure of the hilD transcript. PLoS Pathog. 2019; 24;15(4):e1007700.
Eade CR, Bogomolnaya L, Hung CC, Betteken M, Andrews-Polymenis H, Altier C. Salmonella Pathogenicity Island 1 Is Expressed in the Chicken Intestine and Promotes Bacterial Proliferation. Infection and Immunity. 2018; 19;87(1) e00503-18
Hung CC, Eade CR, Altier C. The acyltransferase Pat post-transcriptionally controls HilD to repress Salmonella invasion. Molecular Microbiology. 2016; 102(1):121-136
Eade CR, Hung CC, Bullard B, Gonzalez-Escobedo G, Gunn JS, Altier C. Bile acids function synergistically to repress invasion gene expression in Salmonella by destabilizing the Invasion regulator HilD. Infection and Immunity. 2016; 84(8):2198-208
Hung CC, Garner CD, Slauch JM, Dwyer ZW, Lawhon SD, Frye JG, McClelland M, Ahmer BM, Altier C. The intestinal fatty acid propionate inhibits Salmonella invasion through the post-translational control of HilD. Molecular Microbiology. 2013;87(5):1045-60.
Hung CC, Haines L, Altier C. The Flagellar Regulator fliT Represses Salmonella Pathogenicity Island 1 through flhDC and fliZ. PLoS One. 2012;7(3):e34220
LDAP Details for

Hung, Chien-Che