Big Hearts, Alternate Pathways, and Winning the Race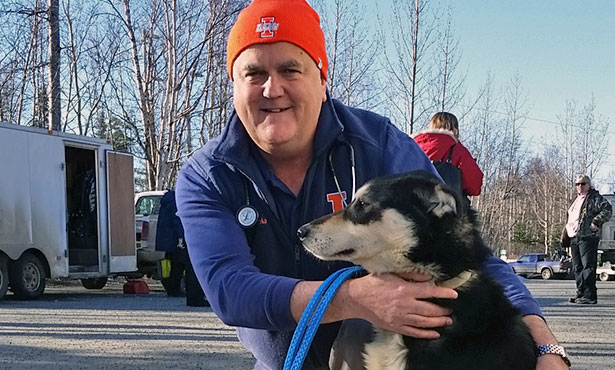 This message appeared in the June 2016 issue of the Illinois State Veterinary Medical Association Epitome.
Performance and endurance are key qualities
You may recall me as a food animal clinician-scientist from my faculty days at Illinois, but another of my longtime research interests is cardiovascular physiology, particularly in the elite canine athlete.
For more than two decades I've been involved in studies of the dogs participating in Alaska's Iditarod, the annual sled dog race covering more than 1,000 miles between Anchorage and Nome. When racing 300 miles in a cold environment, these extraordinary athletes burn calories at more than twice the rate of Thoroughbreds in heavy training, three times the rate of Tour de France cyclists, and four times the rate of sedentary Alaskan sled dogs.
As dean I've continued to make an annual trek to Alaska in early March as part of a longitudinal study of this unique population. With fellow Australian Dr. Kenneth Hinchcliff, current co-editor in chief of the Journal of Veterinary Internal Medicine and a former dean, and other coauthors, I've published a number of scholarly articles about these amazing dogs.
Every veterinary practitioner should be made aware of this: clinical findings that would, in the typical canine pet, indicate pathology may be normal for athletes at this level. In our study of 48 highly trained sled dogs compared with 18 lightly trained sled dogs, 19 untrained sled dogs, and 14 mongrels, the elite athletes far more frequently showed systolic cardiac murmurs (in fact, 40% of the highly trained dogs had murmurs), cardiac chamber enlargement, and a prolonged QT interval on an electrocardiogram.
These findings match the findings in human endurance athletes. (Unlike human elite athletes, however, the dogs did not exhibit a lower than normal resting heart rate.)
We've shown that endurance training increases QRS duration, which in turn correlates with cardiac size in the dog and may be useful in predicting performance in endurance activities.
What I've experienced working with the dogs of the Iditarod informs my perspective as dean. Performance and endurance are qualities that matter, whether the race is literal, covering miles, or metaphoric, toward organizational goals and aspirations.
As a college, we have adopted a long-range vision that describes what success looks like:
We will be a pre-eminent public college of veterinary medicine, provide a transformative educational experience for our students, create and communicate knowledge that changes the world, deliver outstanding clinical service to our patients and clients, and pursue excellence in all our endeavors.
Achieving this vision will be a complex and multifaceted process, so we've identified the actions we'll take over the next five years to move us in the right direction. These actions are documented in our 2016 Strategic Plan. Like the empirical scientists veterinarians are, we will track predefined data to measure our progress toward our goal.
Sometimes, the path to our goal will take us through unexplored territory. As you know, the Illinois budget situation has ratcheted up the financial pressures on higher education. We are forging innovative partnerships with industry to meet these challenges, just as we reached outside the norm when reimagining delivery of a 21st century veterinary curriculum.
The fact is, to achieve our goals in a changing social and economic environment, we must find new strategies. While we continue to foster scholarship and discovery, we may put a new focus on faculty hires that align with campus research priorities, patent applications, endowed chairs, and graduate student scholarships. Our strength in transformative learning experiences may embrace international partners, dual degree programs, and the latest technology in instructional methods.
A fierce determination to achieve fuels our plan and our people. We are glad to have the Illinois veterinary community as part of our winning team.
—Dean Peter Constable