Summer Experience Builds Confidence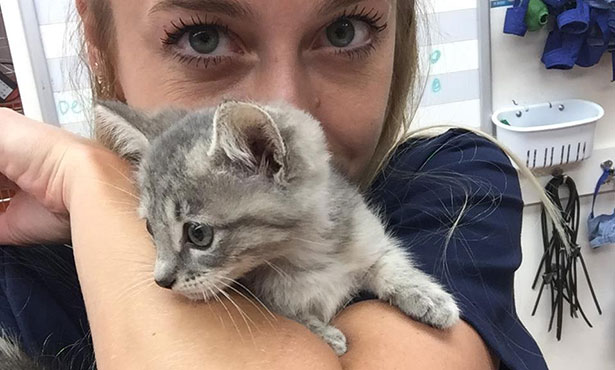 Banfield student job program
It is important for vet students to gain clinical experience over our breaks. In the Illinois program, we are fortunate to have clinical rotations early in the curriculum, but often on first-year rotations students are just observers with hospital patients and practice hands-on skills with manikins. First- through third-year classes are focused on medical knowledge and the skills often are not put into practice with patients until our last year.
For students who have not worked in a clinic before vet school, it is vital to obtain more practice over summer and winter breaks. As much as I shadowed veterinarians before vet school, I unfortunately did not have a lot of ability to work on my own skills. This is why I was grateful to be accepted for the Banfield student job program this past summer.
Program Assigns Mentor Doctor
Banfield is a corporate-run veterinary clinic, which makes it slightly different from private practice. All the separate hospitals are run in a similar manner and have their own protocols to make sure everything goes as smoothly as possible. They are also able to pay their employees a very competitive salary, which is not always possible in this field.
I am grateful for this opportunity and plan to complete an externship with Banfield during my fourth year of study, hoping once again they will push me to my full potential.

Jen Tito, third-year student
Once you are accepted at your preferred location, you are assigned a mentor doctor, who works with you throughout the summer and tests your knowledge. This is a great opportunity because not only are you allowed to work on all of your clinical skills but you also spend time following the veterinarian and still have some didactic learning put to clinical use.
I split my time between the veterinarian and the technicians. The technicians allowed me to work on any skill set I wanted to, such as nail trims, anal gland expression, blood draws, vaccinations, holding, and even premedicating. I also was able to practice monitoring anesthesia and perform all the laboratory tests.
While working with the vets, I scrubbed into surgery and even helped out, followed them into rooms to see how they interacted with clients and took medical notes, practiced physical exams as well as my diagnostic differentials and treatment plans for each patient. My mentor vet often challenged my knowledge by quizzing me and discussing important medical issues, such as liver and kidney disease as well as parasites.
Connecting Classroom Learning to Practice
Some days it was tough. The days were long and busy, or I would be challenged to think about a difficult topic and do some research. However, in the end, I learned so much from this job.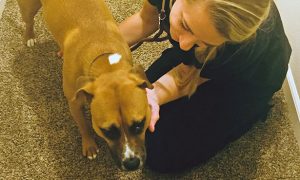 Working at Banfield allowed me to piece together a lot of the things we have learned in school. Why we do certain tests made more sense, what antibiotics we use for what and why we use them was easier to remember, and going into so many surgeries helped me prepare for my own first surgery, which is coming up this semester.
One of the things I have been most nervous about in life is just not being a good enough veterinarian. I wasn't confident in my clinical skills, and I often felt that details from past years' study faded in my memory. This job allowed me to practice what I already enjoy doing and put it all in a clinical perspective. My mentor doctor always made sure to push me and it really got me out of my shell. I don't think I would have learned as much otherwise.
The Case of the Crabby Schnauzer
On top of increasing my skill level, I was able to work with some really great pets and see interesting cases. One case we dealt with was an older schnauzer undergoing anesthesia for a dental. Everything went well until he was waking up in the cage. We had noticed he kept chewing and chewing, not settling down at all. Unfortunately, he was aggressive, making close examination a challenge. After taking him out of his cage and looking at his mouth, we noticed a lot of fresh blood.
The vet called the owner and received approval to put the dog back under anesthesia for a better look. Once the dog was under, the vet pulled the dog's tongue out, revealing several deep lacerations from the dog chewing his own tongue. Due to the numbness from nerve blocks for the dental, the dog was not feeling much pain and did not feel himself chewing his tongue. The vet was able to suture all of the deep cuts, which is something neither he nor I had ever seen before. It was such an odd experience, but now I know it is possible to suture a tongue!
A Glimpse into My Future
Some cases were difficult. I learned to work with aggressive dogs and saw a lot of sad outcomes. However, a lot of days were happy, and the vet resolved a lot of problems for pets and their owners. It was rewarding to see what my future holds and how, even though not every day is an easy one, veterinarians make a huge difference for others.
I am hoping everything my mentor taught me will help me think differently and allow me to be a better veterinarian. For anyone who has the opportunity to complete this job program, I definitely recommend it. It is specifically for veterinary students and is aimed at pushing them to be better. I know I need to be pushed because I am not always fully confident in my decisions. I am grateful for this opportunity and plan to complete an externship with Banfield during my fourth year of study, hoping once again they will push me to my full potential.
—Jen Tito, third-year veterinary student