Illinois Agricultural Stakeholders Sought for Animal Disease Preparedness Training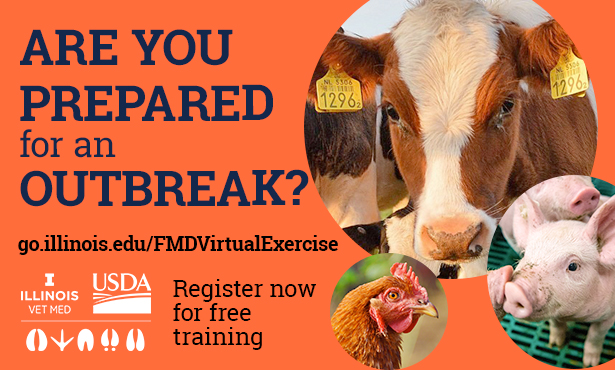 Register Soon to Begin Learning
A program to be held September 8 to 11 will ready Illinois agriculture to mount a coordinated response in the event of a foreign animal disease outbreak. Program organizers are recruiting a wide swath of relevant stakeholders to participate in the training, which not only involves the affected stakeholders in developing the response plan but also provides them with resources that will help them improve on-farm biosecurity.
More than 100 participants are expected to take part. They will meet online from 5 pm to 8 pm, Tuesday through Thursday, to work through a realistic scenario depicting an outbreak of foot and mouth disease (FMD) in Illinois.  A one-hour wrap-up session is scheduled for Friday at noon. (All times are Central Standard Time.)
The more you know, the more control you can have over your own farm's ability to navigate a potential disease outbreak.

Dr. Yvette Johnson-Walker
In mid August, registered participants will begin receiving material to prepare them for the exercise, so early registration is encouraged to maximize the benefit.
The training is free to participants because it is supported through a grant from the U.S. Department of Agriculture.
Collaborative Effort
"This is a unique opportunity for everyone who would be directly impacted by an outbreak to collaborate on plans for the response," said Dr. Yvette Johnson-Walker, one of four faculty members at the University of Illinois College of Veterinary Medicine who are organizing the training.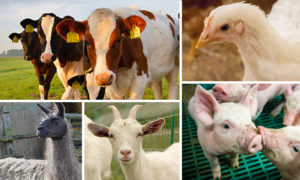 "We're seeking broad participation from large and small farms as well as from veterinarians that serve animal producers and those in allied agricultural industries," she said. "This is your chance to be at the table when protocols are being discussed to help ensure that plans are feasible for implementation by producers."
Dr. Johnson-Walker is a veterinary epidemiologist who has extensive experience in delivering training programs on animal emergency preparedness. She is a co-principal investigator on the current USDA grant with Dr. Gay Miller, who also brings decades of research and leadership focused on foreign animal disease prevention, preparedness, and response. The other leaders are Drs. Will Sander and Csaba Varga, experts in public health and interagency coordination and in geographic information systems in relation to disease outbreak and control, respectively.
Who Will Benefit?
"Participants will gain valuable information to increase biosecurity and biocontainment on their farms," noted Dr. Johnson-Walker. "The training will help farms put a response plan in place and know whom to contact in the event of an outbreak. The more you know, the more control you can have over your own farm's ability to navigate a potential disease outbreak."
Hobby farmers with show cattle or those raising llamas, goats, and sheep would be affected by an FMD or other disease outbreak. They should sign up for the free training.
"Show animals and small ruminants are often part of the family," said Dr. Johnson-Walker, "but they would be subject to disease containment measures put in place for various species. It could be devastating for these families if they were forced to depopulate their herd.
"Even poultry producers need to prepare for a foot and mouth disease outbreak," she said. "Poultry cannot contract foot and mouth disease, but the poultry industry will certainly be impacted by the restrictions put in place to control the outbreak."
The training will also provide producers and veterinarians with updates on the rapidly changing regulations on FMD and the use of vaccines.
Learn More and Register
To learn more and register for the free training program, visit: go.illinois.edu/FMDVirtualExercise
The training is part of the National Animal Disease Preparedness and Response Program (NADPRP), funded through the 2018 Farm Bill. It represents the first of a four-part program designed by experts at the College of Veterinary Medicine to ready individuals across a variety of animal and public health sectors to respond to a foreign animal disease outbreak.
"The overall goal is to develop a deployment-ready critical mass of animal agriculture stakeholders able to work together in incident management teams to respond to a foreign animal disease event," said Dr. Miller.
Preparation and coordination are vital to contain such an outbreak, which many believe to be a "not if, but when" inevitability.
Who Should Participate?
Veterinarians: As many as half of the participants in the exercise will be Illinois veterinarians who serve agricultural clients. Organizers invite a range of veterinary practitioners, including those in consultant roles to large swine operations and those who see hooved animals on hobby farms, whether pigs, cows, llamas, sheep, or goats. Veterinarians are eligible for continuing education credit when completing the entire training.
Producers: Illinois producers in the pork, dairy, beef, sheep, goat, and poultry industries are encouraged to attend. Even though poultry is not susceptible to the disease being modeled, an outbreak of FMD could negatively affect poultry operations in the region.
Livestock owners: Livestock owners who raise sheep, goats, pigs, cows, and llamas will learn ways to improve biosecurity on their farms, which is especially important if they transport their animals to fairs or shows.
Allied Industry Representatives: Representatives of state livestock industry organizations will play a role in the exercise so that they are prepared to join a coordinated response with regulators in messaging to their members and to the public in the event of an outbreak.
Other participants will include members of allied agricultural industries, such as those in the rendering or animal processing industry. Animal health regulatory agency personnel at the federal level as well as from Illinois and surrounding states will also participate.