Dr. Escalante Soars Toward Career in Anesthesia, Teaching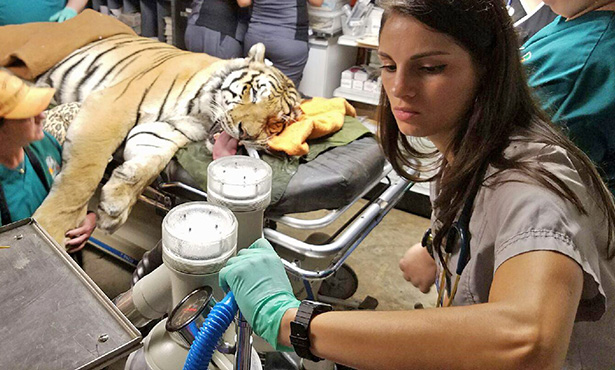 From Pre-Med to Vet Med
Note: This profile of 2019 veterinary graduate Dr. Gabriela Escalante is one in a series. For others, visit Alumni News.
I would not be where I am today without a little Razzle Dazzle.
Razzle Dazzle is the name of my pet bird, a green-cheeked conure about the size of a cockatiel. Her name fits her quite well, as she has quite the personality and is the queen of my house! It wasn't until I got her as a rescue during my freshman year of undergrad that I realized there was a whole world out there of medicine for animals.
'She Changed My Life'
I was pre-med for a long time and was interested in medicine since high school in Barrington, Ill. However, after taking some of the pre-med courses at University of Illinois as an undergrad, I ended up not really knowing what I wanted to do. The human side of medicine was very different from what I expected, and I switched my major around a lot—three times actually.
During that time I wanted to get a pet and I figured, "Hey, why not a bird? That must be easy." Wrong! Of course, I get the most troublesome creature alive! But she changed my life.
I started learning how much of a personality birds have. After seeing what her routine vet visits involved, I realized veterinary medicine was extremely fascinating and I became very bird focused in my career goals. She's the reason I chose animal sciences as my undergraduate major. For a while I thought I wanted to practice solely bird medicine, but after getting into vet school, I realized there's a lot of aspects about general veterinary medicine that I didn't really like!
Wildlife Clinic Experience Leads to Veterinary Career Goals
Then I volunteered at the Wildlife Medical Clinic, and that was where I fell in love with the teaching side of veterinary medicine. The clinic was all student-run, so I had upperclassmen who were teaching me; the doctors were primarily there as a helping hand in the background.
My time with the wildlife clinic was amazing and was the main reason I decided to stay at the U of I for vet school: I wanted to remain a part of that community. We got to approach medicine in a very critically independent way all on our own, and I gained a tremendous amount of hands-on experience from my upperclassman mentors.
Over my five years as a wildlife volunteer—two as an undergrad and three in veterinary school—I took on some leadership roles that allowed me to embrace my love of teaching. The director of the Wildlife Medical Clinic, Dr. Julia Whittington, was key in making me realize I wanted to eventually be in academia. Her approach to teaching students about wildlife medicine and allowing students to learn from one another inspires me to become that kind of mentor to future students one day.
My experience in the wildlife clinic also led me to switch from wanting to do bird medicine exclusively to focusing on anesthesiology. Birds have a unique a respiratory system and different pain receptors from other bird species and other animal groups. Learning about those differences fueled my interest in anesthesiology. I slowly found myself loving every aspect of anesthesia, not just in wildlife species, but in domestic animals as well.
So that's where I'm headed, hopefully, to do a residency in anesthesia. I went through the national internship/residency matching program, specifically applying to places that have an anesthesiologist. Come July, I'll be entering a generaI rotating internship—focused on small animal emergency service, internal medicine, and surgery services—at Lakeshore Veterinary Specialists in the Milwaukee area.
PD: Preparing for Internship
I tailored my professional development period [the last six weeks before graduation] to becoming a well-rounded clinician, increasing my comfort level going into an internship, rather than focusing all my PD time on my ultimate anesthesia goals. I of course had two weeks of anesthesia, however: one week was at the University of Wisconsin-Madison, which also has a very good anesthesia program, and the second week was at Illinois with the wonderful anesthesia team that has supported me throughout vet school.
The rest of my PD time was spent here in Urbana for rotations in critical care, internal medicine, and emergency medicine, which made for a good, well-rounded refresher for me before I head off into what I call "adulthood."
One special PD rotation was a week at the Wildlife Prairie Park in Peoria, a professional development course initially started and organized by Dr. Whittington, and the rest of the zoo medicine service. We performed wellness exams on the various captive wildlife species at the park. Many animals required anesthesia for the exam, which allowed me to learn more about anesthesia in a variety of species. One highlight was being able to help with anesthetizing an American black bear!
Future Anesthesiologist, Teacher
My hope is to focus on exotic animal anesthesia eventually, because that area is less well described than anesthesia for dogs and cats or even horses. In addition to my time in the wildlife clinic and the Wildlife Prairie Park PD, I have experience in exotic anesthesia through a research project and a clinical year externship I did with Dr. Sathya Chinnadurai, the only veterinarian boarded in both anesthesia and zoo medicine, at Brookfield Zoo near Chicago.
Ideally I hope to someday work at a vet school, because teaching is learning twice and I hope to be part of a future student's life just as my mentors were for me. At Illinois, unlike other vet schools, first- and second-year students spend time on clinical rotations. This allowed me to practice my teaching skills with underclassmen students. I appreciated the times I ended up learning more from those students than I was able to teach them. It's great when learning goes in both directions!
There are fewer anesthesiologists compared to other specialists. It's not the most sought-after specialty, probably because it's not the most glamorous, like surgery might be. We're sort of the unknown heroes in the background. The clients always consider the surgeon the main character, and we understand that, but meanwhile we're the ones being the patients' advocate and making sure they stay alive throughout procedures. We have their lives in our hands, too.
And to think, it all started with my Razzle Dazzle.
As told to Jim McFarlin