Alumni Spotlight: Shawn Costello (DVM '86)
In this spotlight series, we are featuring alumni speakers who are presenting at the 2016 Fall Conference for Veterinarians. Register now for Fall Conference or view other alumni speaker profiles; more will be added each week leading up to the conference!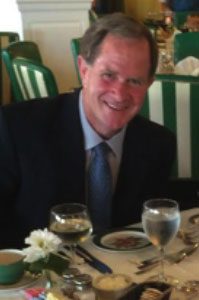 Shawn Costello (DVM '86)
Co-Owner/Partner Harvard Veterinary Clinic
Harvard, Illinois
Fall Conference Presentation
Why Didn't I Think of That? Practice Tips
What is your current position and how long have you held it?
Co-owner of Harvard Veterinary Clinic in Harvard IL since 1990.  Co-owner/partner of Hartland Veterinary Clinic in Woodstock IL since 2014.
What is your favorite memory from veterinary school?
My time spend on field service trips with my instructors Bruce Brodie, Randy Ott, William Hall, and Dave Bane.  They were wonderful learning experiences and a lot of fun as well.
What do you enjoy doing outside of work?
Running, wildlife photography (especially Brown Bear), and spending time with my 8-year-old daughter, Catie.
Do you have any animals?
My Jack Russell Terriers Molly and Mugsy as well as Nick, an 11-year-old Quarter Horse gelding.
Besides speaking at this year's Fall Conference, how do you stay connected to the College of Veterinary Medicine?
Most of my connections are not through Fall Conference, but come from the vast number of wonderful friends that I have had the privilege of making. I have continued to remain connected with friends that were classmates, former instructors, and students who have truly enriched my career. I am very lucky to have them all in my life in both professional and personal capacities.