Alumni Spotlight: Sarah Miller (DVM '01)
In this spotlight series, we are featuring alumni speakers who are presenting at the 2016 Fall Conference for Veterinarians. Register now for Fall Conference or view other alumni speaker profiles; more will be added each week leading up to the conference!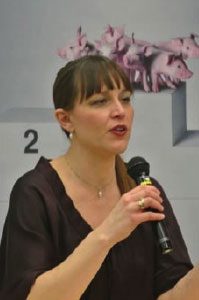 Sarah Miller (DVM '01)
Creative director and president
AgCreate Solutions
Fall Conference Presentation
Finding that Work/Life/Family Balance without Falling off the Seesaw Too Many Times
What is your favorite memory from veterinary school?
Friendships I made during veterinary school.
What is the most memorable/unique aspect of your career so far? Or, what are you most proud of in your career?
Winning Most Promising Product of the Year at World Pork Expo.
Do you have any animals?
Three dogs.
Besides speaking at this year's Fall Conference, how do you stay connected to the College of Veterinary Medicine?
Through vet school interviews, giving talks when asked, and putting in the effort to stay in contact with mentors and friends.