Alumni Spotlight: John Calhoun (DVM '96)
In this spotlight series, we are featuring alumni speakers who are presenting at the 2016 Fall Conference for Veterinarians. Register now for Fall Conference or view other alumni speaker profiles; more will be added each week leading up to the conference!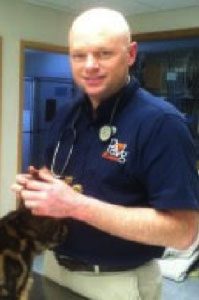 John Calhoun
Veterinarian
Peoria Area Veterinary Group
Fall Conference Presentation
Why Didn't I Think of That? Practice Tips
What is your current position and how long have you held it?
I am currently working as a small animal veterinarian and administrator in a group of three veterinary clinics in the Peoria area. I worked as a research veterinarian for the University of Illinois Dixon Springs Agricultural Center immediately after graduation until returning to Peoria in 1999 for my current position.
What is your favorite memory from veterinary school?
I don't remember the struggles and inconveniences of the school work, but I do vividly remember the fun times we had at Dean Valli's place, our end-of-week football games, intramural basketball, our trips to the Beef House, the end-of-year pig roasts, and the wonderful times I spent with my wife before and after we got married. Certainly, I had experiences other than these fun and joyous ones, but these are just the ones I've chosen to remember.
What do you enjoy doing outside of work?
As a family, we love to ski, hike, and travel. Our kids are at a point in life where we can share a lot of memories through travel, school work, and their other chosen passions. So, outside of work, our focus is on the kids or traveling with them—and sometimes without them.
Do you have any animals?
Currently, we have a milking shorthorn cow and her newest calf, chickens, ducks, horses, goats, and kids, and, of course, dogs and cats. We did a stint of raising our own pork, but that ship has come and gone.
What makes a great veterinary conference experience?
I feel a great conference experience involves new and insightful lectures coupled with activities and meaningful people. That's why this year's conference will be so special. We'll be able to hear unique presentations while visiting with friends from the past.
Besides speaking at this year's Fall Conference, how do you stay connected to the College of Veterinary Medicine?
I read the newsletters and announcements that are sent out and we use the University's Veterinary Diagnostic Lab. We are also assisting the college's oncology department by providing limited oncology services through our group. This will diagnose and plan for much more aggressive care and treatment at the college while increasing the contact to specialists for pets in our area.