Alumni Spotlight: Drew Sullivan (DVM '11)
In this spotlight series, we are featuring alumni speakers who are presenting at the 2016 Fall Conference for Veterinarians. Register now for Fall Conference or view other alumni speaker profiles; more will be added each week leading up to the conference!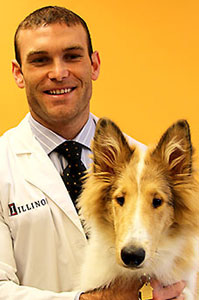 Drew Sullivan (DVM '11)
Medical Director, Veterinarian
Medical District Veterinary Clinic at Illinois
Fall Conference Presentation
Being a Valuable Associate
What is your favorite memory from veterinary school?
I can't think of just one, but I really enjoyed my time in vet school and really enjoyed 4th-year clinics.
What are you looking forward to at this year's Fall Conference?
Spending time on campus.
 What do you enjoy doing outside of work?
I enjoy spending time with my family (wife and son) and I enjoy doing Crossfit.
Do you have any animals?
One dog named Oskee that I adopted from Champaign County Humane Society nine years ago.
What makes a great veterinary conference experience?
Good speakers.
Besides speaking at this year's Fall Conference, how do you stay connected to the College of Veterinary Medicine?
I currently work for the University at their Chicago location so I stay pretty connected.