Alumni Spotlight: Douglas Hutchens (DVM '96)
In this spotlight series, we are featuring alumni speakers who are presenting at the 2016 Fall Conference for Veterinarians. Register now for Fall Conference or view other alumni speaker profiles; more will be added each week leading up to the conference!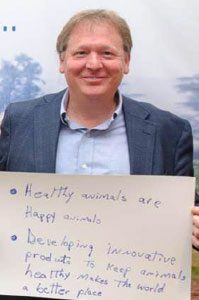 Douglas Hutchens (DVM '96)
Head of Development & Chief Veterinary Officer
Bayer Animal Health
Fall Conference Presentation
The Drug Discovery Process in Search of a New Parasiticide
How long have you held your current position?
I have been in my current job for four years.
What is your favorite memory from veterinary school?
I would say I had many positive experiences during veterinary school and it is difficult for me to pick one. If I had to narrow it down to just a few, then I would say the camaraderie, collaboration,  and support of both my classmates and the professors in both the first-year anatomy lab and during the ambulatory rotation senior year. In particular, I can still vividly remember working in ambulatory at the Arthur sale barn, getting the opportunity to experience the real life of a veterinarian working at a sale barn, and then going for Amish whoopee pies at a local store after the work was done. I also had the great opportunity to work all four years in the parasitology laboratory of Drs. Joe DiPietro and Allan Paul. This was a fabulous experience, a lot of fun, and really shaped my professional career going forward. I feel so fortunate to have had this opportunity and I still consider Drs. DiPietro and Paul as being great mentors who have had a profound impact on my career.
What are you looking forward to at this year's Fall Conference?
I feel honored to be invited to celebrate the retirement and career of Dr. Paul. So, I am really looking forward to seeing him. I am also eager to reconnect with many of my classmates.
What is the most memorable/unique aspect of your career so far? Or, what are you most proud of in your career?
I have had the opportunity to work and live as an expat in Germany since 2010 and this has been a very rewarding experience for not only me but also my family. The only downside has been that my wife, Betsy Hutchens (DVM '95), who is a much better clinician and surgeon than myself, is unable to practice in Germany.
Professionally, I am most proud of leading a team that has developed innovative drugs that make the world a better place for animals, their owners, and veterinarians.
What do you enjoy doing outside of work?
I enjoy traveling with my family, watching my son play sports, and riding our horse, Douglas, along the Rhine River and in the forest in Germany.
Do you have any animals?
Yes, we have a cat named Fannie and a horse named Douglas. We did have two horses but we lost our mare (Starling, registered name: Illini Double View), which we had originally purchased as a foal from the University of Illinois 22 years ago, last year in Germany.