Alumni Spotlight: Bill Hollis (DVM '96)
In this spotlight series, we are featuring alumni speakers who are presenting at the 2016 Fall Conference for Veterinarians. Register now for Fall Conference or view other alumni speaker profiles; more will be added each week leading up to the conference!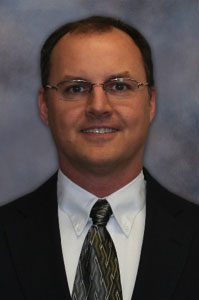 Bill Hollis
Partner at Carthage Veterinary Service, LTD
Fall Conference Presentation
20 Years of PRRS Virus Management and Control – How did we get here? and Where are we going?
What is your current position and how long have you held it?
Veterinarian at Carthage Veterinary Service. I have been in private practice for 20 years this year. I have been a partner in the practice for 18 years.
What is your favorite memory from veterinary school?
Clinics as a senior. All of it. I enjoyed the clinics and the client interactions. CEPS also holds many great memories. I really enjoyed the Extension vets and their interactions and programs.
What is the most memorable/unique aspect of your career so far? Or, what are you most proud of in your career?
The thing I am most proud of in our practice is the sustainable and profitable position our farmer clients hold in a very competitive market. Raising pigs today requires producers to work together no matter the size or location. Some manner of working together is required. Building sustainable partnerships where farmers work together is very rewarding.
What do you enjoy doing outside of work?
Working on old cars.
Do you have any animals?
Our family has three dogs, two cats, four horses, and several ducks…all that have names and none of which consider me their primary care giver.
What makes a great veterinary conference experience?
Networking and sound science.