Alumni Spotlight: Amy Somrak (DVM '10)
In this spotlight series, we are featuring alumni speakers who are presenting at the 2016 Fall Conference for Veterinarians. Register now for Fall Conference or view other alumni speaker profiles; more will be added each week leading up to the conference!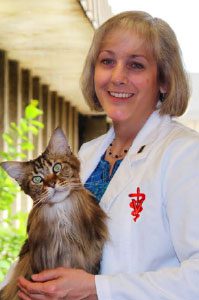 Amy Somrak (DVM '10)
Clinical Assistant Professor of Veterinary Dentistry
University of Illinois Veterinary Teaching Hospital
Fall Conference Presentation
Interpretation of Small Animal Dental Radiographs
What is your current position and how long have you held it?
I recently became Clinical Assistant Professor of Veterinary Dentistry at U of I's Veterinary Teaching Hospital. After my residency I took over the VTH Dentistry Service when Dr. Sandra Manfra Marretta retired at the end of 2013, and I was a Visiting Clinical Instructor until this summer.
What is your favorite memory from veterinary school?
I loved opportunities to spend time with my classmates outside of the classroom, and also to get to know vet students from other schools. I really enjoyed SAVMA Symposium and the Merck-Merial NIH Veterinary Scholars Symposium. Closer to home, I always looked forward to the annual Vetscapades. It was a great way to blow off steam and have some laughs with my classmates.
What is the most memorable/unique aspect of your career so far? Or, what are you most proud of in your career?
Most of my patients are cats and dogs and the occasional ferret, but I sometimes have the opportunity to treat exotic or wild species, including raccoon, armadillo, cottontail rabbit, and coatimundi. I extracted a diseased tooth from a rescue tiger when I was six months pregnant with my son, so he gets partial credit for that procedure.
What do you enjoy doing outside of work?
I enjoy cooking with my husband and trying out different parks with my active 18-month-old son. We also like to get together with friends and play cards or other games.
Do you have any animals?
I have four cats—two Maine Coons and two long-haired moggies. It's a constant battle to keep the cat hair to a socially acceptable minimum.
What makes a great veterinary conference experience?
A great veterinary conference experience stems from having a variety of topics to choose from. Ideally it should be relatively interactive to stimulate discussion, and should provide the participant knowledge that can be shared and put to use immediately back at the home clinic.