The African Adventure Every Veterinary Student Hopes For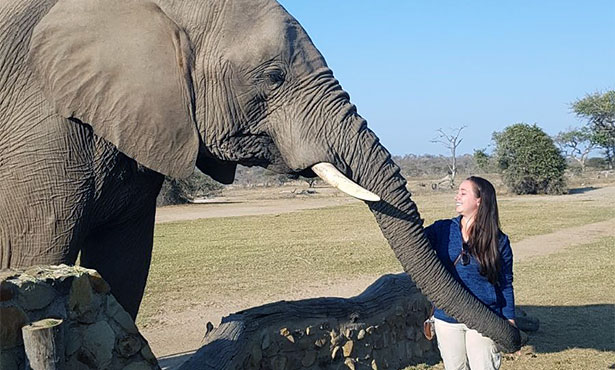 Visiting Africa to work with wildlife has been a lifelong dream, and certainly one that I never thought I would accomplish. This summer, I was finally able to realize that dream by spending three weeks in Hoedspruit, South Africa, with the Selati Wildlife Experience program, and it surpassed all of my expectations.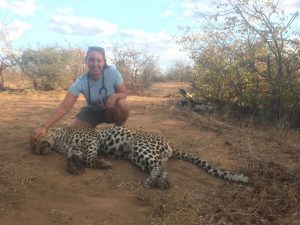 I began my trip with a total of almost 36 hours of flying and layovers to arrive in Hoedspruit airport, where my host and program operator, Jessica Osmers, was waiting to pick me up, along with two other veterinary students from Belgium. The reality of where I was hit immediately when we saw giraffe along the road within ten minutes of leaving the airport. Our lodgings were set up against picturesque mountains, included a small pool (even if it was a little too cold to swim most days), rooms with our own bathrooms, and a main house where we spent most evenings.
I was immediately whisked into the world of an African wildlife veterinarian, and spent the first week traveling to game reserves with Dr. Rita Piso. Dr. Piso got us involved with everything right off the bat, from administering medications and drugs to the nyala and impala we were darting to helping transport them on the back of pickup trucks to and from new pastures. I loved the chance to compare the different drugs and protocols used in South Africa to what I had learned in the US so far; plus, working with antelope species I had never even heard of made everything even more fun!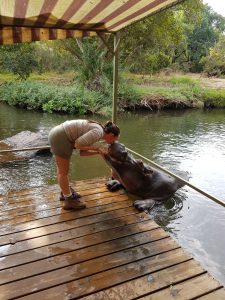 We also had free time most days to visit the local rehabilitation and endangered species centers, as well as see some local favorites like Jessica the Hippo and go on safari in Kruger National Park! By the end of my first week I already thought I was in heaven – then we spent two days trying to dart and treat an injured leopard, and the end result was a once-in-a-lifetime chance for me to monitor his anesthetic levels in the field while seeing true wildlife medicine in play.
I spent the second and third week of my trip working with Dr. Dewald Keet, a veteran of wildlife medicine and an incredible teacher. While I spent the first week mainly with nyala and impala, our time with Dr. Keet focused on kudu, sable antelope, and water buffalo – and yes, water buffalo are just as big and terrifying as they're made out to be. Between days traveling with Dr. Keet, I was able to take a horseback safari, where we got within feet of wild giraffe and zebra; to practice shooting tranquilizer darts out of a helicopter; to interact with rescued elephants; and to visit the stunning Blyde River Canyon!
There will never be enough room in a blog post to explain just how incredible this trip was for me, and how much I learned during my time in South Africa, but I hope that at least some of the magic is conveyed here
– Gina Vecere, third-year student
Learn more about international veterinary medicine programs.