The 2023 MNID will be held at the University of Illinois Urbana-Champaign on Friday, August 11, and Saturday, August 12.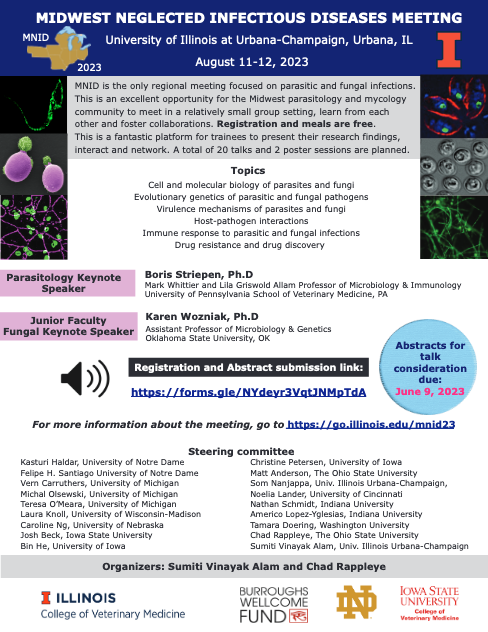 MNID is the only regional meeting focused on parasitic and fungal infections.
This is an excellent opportunity for the Midwest parasitology and mycology community to meet in a relatively small group setting, learn from each other, and foster collaborations. It is a fantastic platform for trainees to present their research findings, interact, and network.
A total of 20 talks and 2 poster sessions are planned.
Registration and abstract information
Registration is free but required. Please use this link to submit your abstract:
The deadline for submitting abstracts for talks has been extended to June 9, 2023.
---
Abstract guidelines
Prepare your abstract in a document (Word, Google Doc, or PDF format).
Include the abstract's title and names of all authors with their affiliations.
Underline the presenter's name.
Please keep the body of the abstract to 200 words or less.
---
Meeting dates and location
Start: 11 am on Friday, August 11: Includes lunch through dinner
End: 1:00 pm on Saturday, August 12
The meeting will take place in the Heritage Hall at the I-Hotel and Conference Center, 1900 S First Street, Champaign, Ill.
2023 MNID Steering Committee
Kasturi Haldar, University of Notre Dame
Felipe H. Santiago, University of Notre Dame
Vern Carruthers, University of Michigan
Michal Olszewski, University of Michigan
Teresa O'Meara, University of Michigan
Laura Knoll, University of Wisconsin-Madison
Caroline Ng, University of Nebraska
Josh Beck, Iowa State University
Bin He, University of Iowa
Christine Petersen, University of Iowa
Matt Anderson, The Ohio State University
Som Nanjappa, University of Illinois Urbana-Champaign
Noelia Lander, University of Cincinnati
Nathan Schmidt, Indiana University
Americo Lopex-Yglesia, Indiana University
Tamara Doering, Washington University
Chad Rappleye, The Ohio State University
Sumiti Vinayak Alam, University of Illinois Urbana Champaign
Meeting Organizers
Sumiti Vinayak Alam (Lead-organizer), UIUC, e-mail: sumiti@illinois.edu
Chad Rappleye (Co-organizer), The Ohio State University