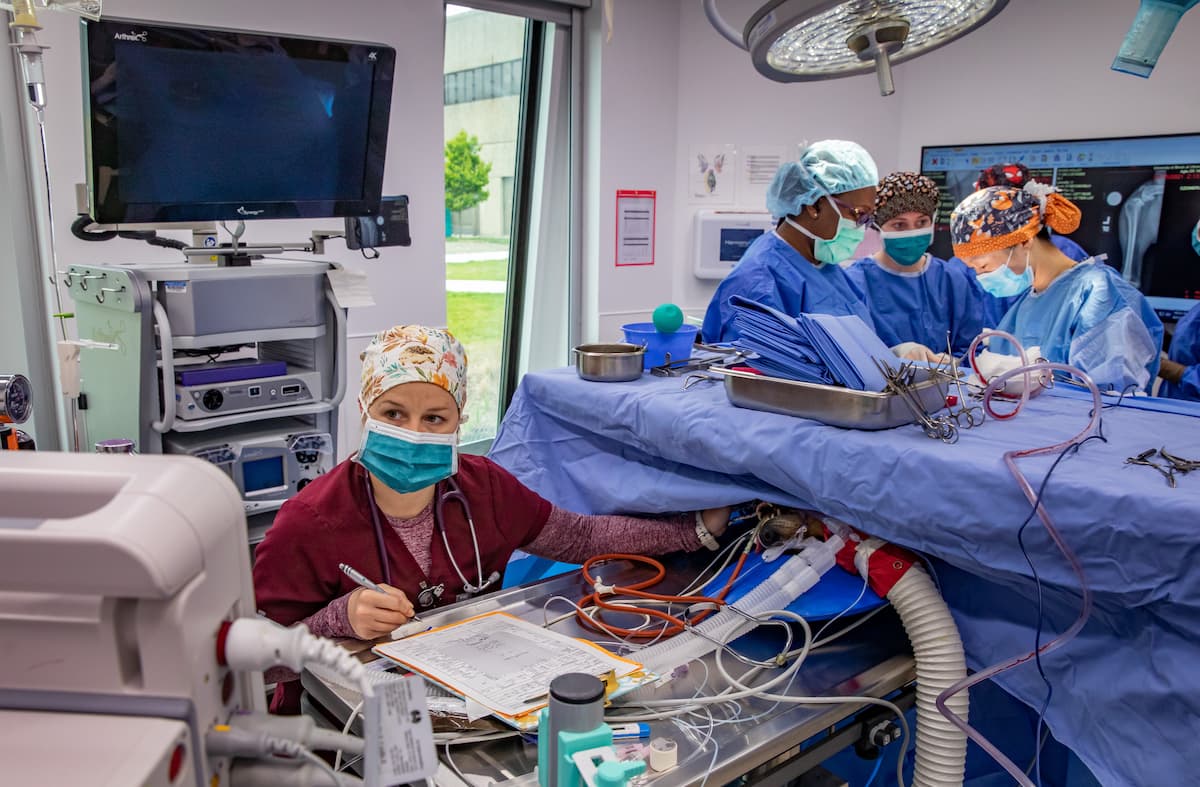 Learn more and apply
Join our collegial team focused on delivering outstanding care, educating future veterinarians, and advancing orthopedic surgery. 
We are seeking a Small Animal Orthopedic faculty member to accommodate a growing orthopedic caseload. We have a diverse caseload of elective and trauma surgery with the opportunity to perform emergent neurologic surgery, if desired. Our service is positioned to significantly advance the practice of orthopedic surgery. The successful candidate will deliver clinical service, engage in clinical and didactic teaching of professional students, interns, and residents, and contribute to the scholarly mission of the college.
We offer state-of-the-art equipment and a brand new surgical facility. Our three excellent faculty members thrive because of our talented and experienced technicians. The orthopedic surgery team includes a surgical technician with 10 years on our service, a rehabilitation specialist with 20 years of experience, a customer service representative who works exclusively with surgery clients, and additional support from multiple OR technicians and six surgery house officers that rotate between soft tissue and orthopedic services.
Hospital resources include state-of-the-art diagnostic, therapeutic, and surgical equipment. You will have access to all the equipment a surgeon could desire, including:
BioMedtrix total hip replacement equipment
Fluoroscopy
I-LOC nail kit
New Arthrex arthroscopy tower, scopes, and shavers (nanoscope purchase planned)
On-site services include:
3T MRI
Computed tomography
Digital radiology
Dual energy X-ray absorptiometry (DEXA)
Gait analysis and physical rehabilitation
On site 3D printing with Ultimaker S5 printer and opportunities to collaborate with our world class engineering department
Platelet Rich Plasma centrifugation system
Radiation therapy
Help educate the next generation of veterinarians in musculoskeletal disease and orthopedics.
Join a team that is collaborative and supportive for seasoned and newer surgeons alike.
We're Investing in Our Programs
A $12 million hospital-wide renovation and expansion project wrapped up at the end of 2021. Over the past six years we've added:
A 9,000 sq ft small animal surgery wing with 8 ORs, including an interventional radiology suite
A state-of-the-art linear accelerator and a new 128-slice CT to support its use
A 3T MRI
A new facility for small animal primary care, zoological medicine specialty service, and our Wildlife Medical Clinic
We Want You!
The University of Illinois College of Veterinary Medicine values work-life balance and collegiality. We are a friendly and interactive hospital, and we seek new colleagues who excel clinically and academically while having fun at work and building strong relationships with coworkers.
JOIN OUR SUPPORTIVE AND INCLUSIVE COMMUNITY
Together we create a workplace culture that fosters respect, inclusion, trust, and support for personal and professional growth. The more diverse our community, the stronger we are. We practice compassion and selfcare. We celebrate successes, knowing that our most valuable assest is our people.
More About US
Boarded clinicians in 16 areas of specialization
Innovative approaches to integrated veterinary education, post-graduate veterinary education, and online learning
Collegewide research strengths in comparative and diagnostic medicine, conservation medicine and ecosystem health, environmental health and toxicology, infectious diseases, and reproductive biology
Part of a top-ranked public, land-grant university
Located in a vibrant, diverse, and international community that still offers Midwestern friendliness and affordability
~ 50 residents and interns
> 500 veterinary students
The University of Illinois is an Equal Opportunity, Affirmative Action employer that recruits and hires qualified candidates without regard to race, color, religion, sex, sexual orientation, gender identity, age, national origin, disability or veteran status. For more information, visit http://go.illinois.edu/EEO. The University of Illinois conducts criminal background checks on all job candidates upon acceptance of a contingent offer. Convictions are not a bar to employment. The University of Illinois System requires candidates selected for hire to disclose any documented finding of sexual misconduct or sexual harassment and to authorize inquiries to current and former employers regarding findings of sexual misconduct or sexual harassment. For more information, visit Policy on Consideration of Sexual Misconduct in Prior Employment. As a qualifying federal contractor, the University of Illinois System uses E-Verify to verify employment eligibility.