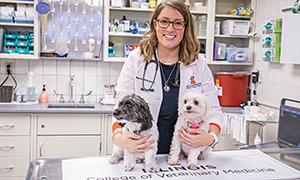 Tell us about your background.
I was born and raised in Iowa and attended Iowa State University for my bachelor's and DVM degrees. I stayed around for a year and completed a master's degree in veterinary anatomy in 2014. The following year, I completed a small animal rotating internship at the University of Wisconsin-Madison and then a three-year residency in small animal emergency and critical care at North Carolina State University. After I passed boards in 2018, I stayed at NC State as a clinical faculty member for a year before joining the ECC service at Illinois in June 2019.
How did you become interested in ER/ECC?
As a first- through third-year veterinary student, I thought I wanted to stay in academia and teach veterinary anatomy. In my clinical year at Iowa State, I fell in love with the client and patient interactions and knew I wanted to at least pursue a rotating internship. As an intern, I found that there were aspects of each specialty that I found exciting. I actually didn't realize it myself, but one of my intern mentors had to point it out to me. I was thriving on the excitement and unpredictability of life in the ER – and after just a few months of being a new doctor, I was hooked!
What are your special interests?
Even before applying to veterinary school, I knew I wanted a career that involved teaching. Working in academia has allowed me to teach not only students, but technicians, interns, and residents. It's my favorite part of my job. Pertaining to emergency and critical care medicine, my special interests include transfusion medicine, kidney injury, and fluid therapy.
Tell us a fun fact about yourself.
My grandfather was a veterinarian (Iowa State Class of 1964) and practiced in my hometown of Muscatine, Iowa, for 49 years before retiring during my fourth year of veterinary school. Like many of us, I knew I wanted to be just like him and be a veterinarian when I was younger, but then I lost my focus for a little bit and chose the pre-med track during my freshman year of college. Luckily, he helped me make the right decision, and I switched to pre-vet for my sophomore year!
Tell us about your favorite case.
During the second year of my residency, I saw a 1-year-old Labrador that been hit by a car. He presented to the ER with a pneumothorax, hemoabdomen, many abrasions and lacerations, and a traumatic brain injury. After initial stabilization and treatment for his pneumothorax and hemoabdomen, he was hospitalized for 11 days as we managed his new seizures and blindness, while trying to teach him how to walk again. He eventually went home, and within 6 months was completely visual again. Within one year he was off all of his seizure medications and running around playing like a 2-year-old lab should be. I still keep in touch with his family and get periodic updates on how he's doing. This dog reminds me that even though there is a lot of sadness and loss in emergency and critical care, the success stories make it all worthwhile.