Tell us about your background.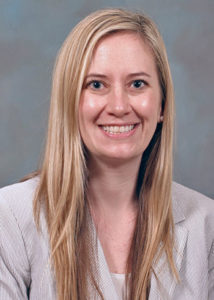 I am originally from the Duluth, Minn./Superior, Wis. Area, where I grew up in a sled-dog racing family, which is what sparked my interest in becoming a veterinarian. As a child, my goal was to someday be the chief veterinarian for the Iditarod.
I earned my bachelor's degree from the University of Minnesota in St. Paul. I stayed on for the DVM program there, and graduated in 2012. I then moved to Ames, Iowa, for a year to complete a small animal rotating internship at Iowa State University.
I was fortunate enough to match for a medical oncology residency here at the University of Illinois, and began that in 2013. The residency had a joint master's degree program. However, I chose not to complete this degree and instead moved into the PhD program, where I could further develop my project.
At the end of my residency, I stayed at the University of Illinois to continue work on my PhD as well as to be an instructor on the medical oncology service. In 2018, a tenure-track faculty position opened up in the medical oncology service and, again, I was fortunate to step into the role of assistant professor in February 2019.
How did you become interested in oncology?
While in veterinary school I quickly learned that I liked the idea of research and also wanted to pursue a specialty. Surprisingly, I really never considered oncology until I went through the oncology rotation in my last two weeks of school. While on this rotation, I immediately fell in love.
The professor that was on with us, Dr. Mike Henson, was so good at teaching students and made oncology exciting. I loved the way he communicated with the clients and was able to provide them comfort and treatment options for their pets with cancer.
From a research standpoint, I knew this was what I wanted to do because the possibilities for comparative medicine with human cancer patients would be endless, and I wanted to learn about cancer treatment in veterinary patients and how I could help pet owners at a time when they felt most hopeless. I was hooked after that!
Tell us about a favorite case of yours.
In the first year of my residency I saw Deuce, a patient with multicentric lymphoma. We started him on the UW-Madison CHOP chemotherapy protocol and he went into remission right away, and then finished out the six-month protocol.
The average survival time for dogs with this type of cancer that are treated with chemotherapy is about 12 to 14 months, and we are now celebrating his five-year anniversary with us! Since his diagnosis, he has been to see us every two months for a recheck, has survived a second cancer (soft tissue sarcoma that we surgically removed), and developed laryngeal paralysis that he had surgery to correct last year.
He has never let any of this get him down and is one of the happiest patients I have ever treated. His mom and dad are two of the most dedicated and kind people I have had the honor of working with, and Deuce will forever be a special patient to me.
What is the focus of your PhD?
My PhD is focused on evaluating a novel anti-cancer agent, IB-DNQ, for feline oral squamous cell carcinoma. This is a common oral tumor in cats that has a devastating prognosis with very few good treatment options.
Our comparative oncology laboratory works closely with a chemistry professor on campus, Dr. Paul Hergenrother, whose laboratory created this compound. The compound targets a specific enzyme that is upregulated in many tumor types, and particularly in feline oral squamous cell carcinoma. Developing targeted anti-cancer treatments that kill only cancer cells, and spares normal tissue, is a focus of cancer drug development and is very exciting to be a part of.
What are your interests outside work?
In my free time I enjoy traveling up north to spend time on the lake with my family, hiking and camping, and spending time with my three dogs. I have two golden retrievers and a beagle. The beagle was part of a study using IB-DNQ; I fell in love with her over the many months we worked together and had to adopt her when the study was over.
My fiancé and I enjoy watching documentaries together, going to concerts, and eating out at the many wonderful local restaurants Champaign-Urbana has to offer.