Illinois Alum Has Led Multifaceted Career
The Chicago Cubs and their historic, hysterical romp to the 2016 World Series title remain a source of jubilation throughout Illinois and beyond. When it comes to the relatively narrow subset of University of Illinois College of Veterinary Medicine alumni and student fans, however, perhaps no one savored the victory more than Dr. Richard Nye—a Class of '76 graduate who once pitched for Wrigley Field's finest.
"The best game I've ever watched was the seventh game of that World Series," declares Dr. Nye, who has some basis for comparison. A left-handed starter signed off the University of California Berkeley campus, he pitched for the Cubs, St. Louis Cardinals, and Montreal Expos over a 5½-year career in the major leagues.
2016 World Series Win 'Very Exciting'
"I'm not one of those who says, 'It's about time,' because I know you can't depend on anything when you start a season," Dr. Nye says of the Cubs' first baseball crown in 108 years. "The really fabulous thing about that team was, they played all year like, 'We're out to have fun, win or lose we're going to play tomorrow, so we can't get hung up on whether we won or we lost.' And the Series proved it. Nobody goes down three games with an offense that appeared to be dead, then all of a sudden boom-boom-boom, win three in a row. Very exciting."
Before a torn rotator cuff forced him to leave the game, Dr. Nye—the Cubs Rookie of the Year in 1967—played for one of the most legendary managers in baseball history, the late Leo "The Lip" Durocher.
"Leo was an Old School guy, he expected you to go out there and play, he didn't want to hear any complaints," he recalls. "If he had something to say to you, you would usually read about it in the paper. He'd probably have that conversation with a sportswriter before he would with you."
From the Majors to the Merc
Rather than rest on his athletic laurels, Dr. Nye became more illustrious in his ultimate profession. After attempting to employ his UC Berkeley civil engineering degree ("Taking soil samples 90 feet down in Chicago in winter…I wasn't passionate about that," he says), he decided to follow his heart.
I realized one thing I had a passion for, besides baseball, was animals.

Dr. Richard Nye
"I always loved a variety of animals growing up, and when I played ball, in all the cities we were in, I looked to see if they had any zoos in the area," he recalls. "You play night games, what do you do all day long? I'd ask, 'Where can I go to look at animals?' I felt like I had a connection with them somehow.
"I realized one thing I had a passion for, besides baseball, was animals. And understanding that medicine and engineering are very close in that they are both problem-solving, detail-oriented professions, I drove down to Illinois and introduced myself to the admissions committee."
Between his junior and senior years, Dr. Nye's focus sharpened when he did an externship under the late Dr. Ted Lafeber, one of the world's foremost experts on avian medicine. "He was really a mentor for me," Dr. Nye says. "He offered me a job after I graduated, so I started seeing birds and just fell in love with it. It was such a fascinating field."
Dr. Nye took an improbable career detour, spending nine years as a commodities trader on the Chicago Mercantile Exchange, before his practice ultimately took flight.
Avian Expert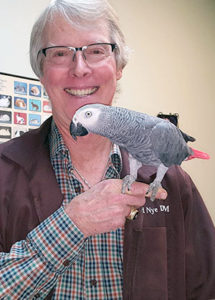 "My wife (fellow veterinarian Dr. Susan Brown) had a lot of experience with reptiles and small mammals, and I didn't," he says. "She said, 'We need to start an all-exotics practice.' I told her we couldn't make money doing that and she said, 'Well, that's not why you're a veterinarian, is it?'
"Working at the Merc sort of allowed us to have our veterinary practice and not worry too much about the money. We started out on a part-time basis, but we were extremely busy as soon as we opened the doors. After the first year we had to hire another full-time person."
The practice, Midwest Bird and Exotic Animal Hospital, originally in Westchester, Ill., with former Brookfield Zoo vet Dr. Scott McDonald, was the first exotics-only specialist practice in the United States. Dr. Nye went on to become a nationally renowned authority on avian medicine, 1989 president of the Association of Avian Veterinarians, in-demand lecturer, and author of bird-specific chapters in several veterinary texts.
Describing himself today as "semi-retired," he remains on staff at Ness Exotic Wellness Center in Lisle, Ill. And after breaking bats early in life, he's now come to embrace their raw material.
"Turning wood on a lathe has become my passion of late," says Dr. Nye, who displays his creations online at nyewoodturning.tumblr.com. "I'm willing to take on projects, if someone says, 'I need a 16-inch salad bowl,' that kind of stuff."
—Jim McFarlin