Zoos Offer Students Exotic Animal Experience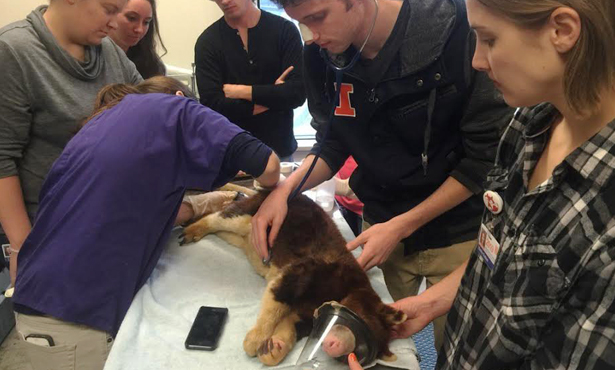 Exotic animals in central Illinois are hard to come by, but thanks to nearby zoos, veterinary students at the University of Illinois can gain incredible field experience. The College of Veterinary Medicine curriculum offers an exotic animal rotation through the Veterinary Teaching Hospital's zoological medicine service. With Dr. Kenneth Welle and Dr. Matt Allender, students learn from real-life cases at local zoos.
These rotations began in 2001 when Dr. Julia Whittington, exotics veterinarian and medical director of the college's Wildlife Medical Clinic, integrated pet zoological species into the veterinary curriculum. Eventually, the hospital's exotic service evolved as the faculty expanded. Now students develop exotic animal experience by providing veterinary services, under the supervision of faculty members, at Miller Park Zoo in Bloomington, Scovill Zoo in Decatur, Wildlife Prairie Park in Peoria, and the college's Wildlife Medical Clinic.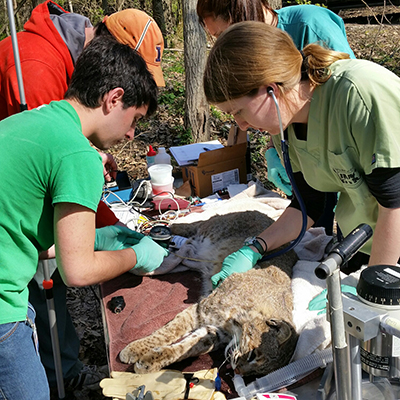 Most students get the chance to go on the exotic animal rotation over the course of their four years.
Gina Vecere, a first-year veterinary student who is interested in wildlife and exotic medicine, completed an exotic rotation with Dr. Allender. The rotation went to the teaching hospital, Miller Park Zoo, and the Champaign County Humane Society. Though first-year students tend to be more observant rather than hands-on during the rotation, Vecere and other first-year students were able to partake in some activities.
"On our trip to Miller Park Zoo we participated in wellness checks for armadillos and tree kangaroos and got to help with blood draws and physical exams for some of their reptiles—I held a seven-foot-long boa constrictor and drew blood from both a blue-tongue skink and a tortoise," says Vecere. "While at the Champaign County Humane Society, we were able to perform wellness exams on their exotics up for adoption. We learned how to do physical exams on rabbits, rats, and turtles, and what to look for as normal and abnormal for these animals."
Zach Kline, a fourth-year veterinary student, had a more hands-on experience at Brookfield Zoo in Brookfield, Ill. He worked alongside the Brookfield Zoo certified veterinarians and helped take care of hospitalized zoo animals needing around-the-clock attention and tended to appointments. (Watch a video featuring Kline assisting alumnus Dr. Mike Adkesson during a sea lion wellness exam.)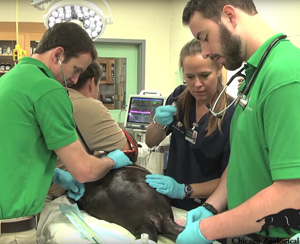 "Each day was unique and didn't always follow the same schedule," says Kline. "Often animals were brought over for yearly exams to have their health assessed through physical examination, clinical pathology, diagnostic imaging, and vaccinations. Sometimes we would go out to the exhibits and observe animals [we were concerned about] in their enclosures to recommend treatment or visits to the hospital."
Being exposed to a wider variety of species enables students to add to their skill sets. "They also learn to apply general medical principles in unfamiliar species," says Dr. Welle.
"We want all fourth-year students to leave the two-week rotation capable of triaging any patient they encounter, even if they are not specializing in companion zoological medicine," says Dr. Allender.
Kline noted that the rotation gave him the opportunity to apply his problem-solving skills across a variety of species.
"Many of the species have limited documented evidence on how certain drugs work, which diseases are most prevalent, and what the normal parameters are with regards to their bloodwork," says Kline. "The experience allowed me to think critically and extrapolate the medical knowledge I already had and cross-reference it with what info I could find on a given species in order to fix a problem."
Similarly, Vecere believes her exotic rotation was a beneficial learning experience.
"I learn best through hands-on experience and real cases, so the chance to look at real animals and discuss their medical history and treatments was invaluable," says Vecere.
In past years, the program has expanded and developed rotations in advanced avian, fish medicine, and wildlife preventative care. As far as the future goes, Dr. Allender says the Veterinary Teaching Hospital's zoological medicine service plans "to continue the program's success and maintain its excellence."
—Nora McKay
See recent coverage of students giving exams at Wildlife Prairie Park: watch a video on WMDB-TV and on WHOI-TV.