Whiteley Takes Office as State Veterinary Association President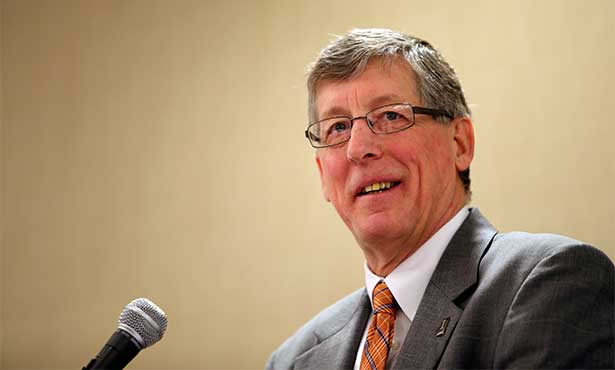 Herbert E. Whiteley, DVM, PhD, professor of pathobiology who served as dean of the College of Veterinary Medicine from 2001 to 2013, took office as president of the Illinois State Veterinary Medical Association (ISVMA) at its October annual meeting in Springfield. Dr. Whiteley has served on the ISVMA executive board for four years.
"Dr. Whiteley has an outstanding record of leadership and high achievement in the veterinary profession," said Deborah Lakamp, CAE, ISVMA executive director. "Having worked in practice, taught, and served as dean of the University of Illinois College of Veterinary Medicine, Dr. Whiteley brings an all-encompassing point of view to the leadership position, coupled with a strong passion for growing the profession."
Dr. Whiteley fostered tremendous innovations as the sixth dean of the college. During his tenure the college introduced the Illinois model of veterinary education, with its greatly expanded clinical exposure; established the Chicago Center for Veterinary Medicine to provide unique student learning opportunities and foster scholarly collaborations in Chicago's Medical District; and established the Clinical Skills Learning Center.
He has also served on the American Veterinary Medical Association's Council on Education and the Council on International Veterinary Affairs.
The ISVMA is a not-for-profit professional association based in Springfield, Ill. The mission of the ISVMA is to advance the well-being of veterinarians, animals, the public and the environment. Established in 1883, the association currently has 2,900 members, including veterinarians, certified veterinary technicians and veterinary students.
This information was received from the Illinois State Veterinary Medical Association.