Vet Student Gains Smorgasbord of Insights at State Fair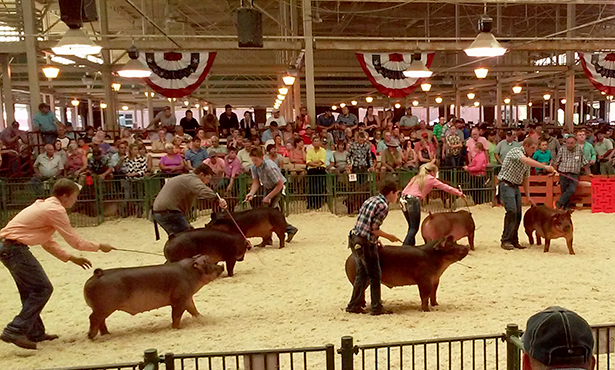 Funnel cakes, carnival rides, and demolition derbies may be on the minds of most people headed for any summertime fair, but few people think about the role of the veterinarian who is strolling up and down the aisles of show animals, nibbling her/his food-of-choice-on-a-stick. However, where there is an animal, you can expect to find a veterinarian in close proximity. This year was the first time the Integrated Food Animal Management Systems team from the University of Illinois College of Veterinary Medicine was on site at the Illinois State Fair in Springfield, providing veterinary care for more than 2,000 animals hailing from all corners of the state.
Student volunteers and clinical staff from the Veterinary Teaching Hospital's Large Animal Clinic were present for two weeks, from setup to teardown, providing on-call services for all species. The team also assisted with specific procedures, such as care of the sows and piglets in the farrowing barn at the Illinois Department of Agriculture's exhibit and helping the state veterinarian's team collect samples from the champion show animals. This collaboration was beneficial to all parties in many respects, and our team got a lot of thanks from many parties for being there to help out.
I'm a seasoned veteran when it comes to county fairs, but this was my first time at a state fair. I was really impressed overall with the fair fare, from animals to events to exhibits, and was happy I signed up to help out for a few of my precious last days of summer. Thankfully we were not called out to any serious animal emergencies, so practicing procedures was limited, but I became very aware of many of the intangible aspects of the profession that we don't have much opportunity to appreciate from lectures.
First, and as you might expect, the state fair is a veritable smorgasbord of animals. Just about any breed imaginable is there for your viewing pleasure. Not quite sure how a Chianina stacks up to a Charolais? No problem. Head on over to the cattle barn and you can clear that up instantly. From Duroc to Shropshire to Percheron, the fair has it all! Besides the curiosity factor, the ability to recognize species can be important for a veterinarian. A doctor gains trust from small things like pronouncing a client's name properly, shutting gates behind you, and whether or not that red animal is a Hereford or Shorthorn, heifer or cow. It can be hard to believe your veterinarian's medical advice if she/he can't even identify your animal properly. Having the animals in front of your face is more helpful than any PowerPoint when it comes to remembering breeds.
Additionally, the fair gave me a chance to see animals in action. The role of the livestock animal is primarily to produce, but it's important to remember that some animals have other jobs too. A show animal has different needs than does an animal used solely for production. Appearance is everything in the ring and a veterinarian needs to be sensitive to this. I gave an injection to a heifer that was yet to be shown and instead of picking a drug that would be injected in the neck we chose one that worked just as well, but was injected at the base of the ear. Show animals are traditionally injected in the neck on the left side because the right side of the animal faces the judge. Giving a compound behind the ear leaves the least possibility of any show ring blemish.
Food safety and performance enhancement also need to be considered by the veterinarian when choosing the right treatment. Champion animals going to sale and market immediately after the shows can't have drug residues in their system by law, so certain compounds could not be used. Animals that have yet to be shown aren't allowed to have certain drugs in their system because it might give them an unfair competitive advantage. We had to consider all these things when deciding how to treat the animals we saw.
The most amazing working animals I saw were the draft horses in the six-horse team hitch competition. I was instantly transported back to my childhood horse fanatic days as they cruised around the ring pulling working wagons and showing off for the judges. Not only was it an exhilarating visual and audio spectacle, but my mind was racing as I thought of all the medical aspects of what it took to keep these performance animals in top form.
Networking, networking, networking is always on a veterinary student's mind as we get a feel for the professional world we will step into after graduation. We got the opportunity to work side by side with Dr. Mark Ernst, Illinois state veterinarian, as well as being able to meet future clients. We also bumped into a number of recent Illinois grads as we made our way through the various livestock barns. The Illinois State Veterinary Medical Association was kind enough to buy our team lunch on one of the days, so we got an opportunity to learn more about them and meet some of the ladies that make the organization tick. The Internet may be a great resource for connecting with anyone in the world, but I don't think it compares to chatting over pork chops-on-a-stick in the commodities pavilion. The fair was the perfect environment for meeting all sorts of people in the agricultural world.
Finally, and most importantly, my time at the fair imparted a bit of the professional responsibility of being a veterinarian to me. Walking around the fairgrounds in my University of Illinois Veterinary Medicine emblazoned scrub top made me very mindful of the fact that veterinarians are respected community members with an important role in serving society. That service component is so important that it was codified into the oath that we take when we graduate. No animal exists in a vacuum, and wherever we treat animals we will have to do so through the lens of society.
Although I already knew this before I came to the fair, actually doing it was completely different. My most terrifying moment came when I helped treat a sow for mastitis in the farrowing exhibit. I had to give a large injection to an even larger sow in front of families and other people enjoying the newborn piglets. It was my first time injecting a pig I couldn't hold in my arms and my first time treating an animal in front of such a large audience. I steeled my nerves, jumped into the farrowing enclosure, and gave it my best. Luckily I nailed it on my first try, but it was pretty nerve-wracking. I heard a little girl ask someone what I was doing as the sow was vocalizing loudly during the procedure. This question only strengthened my understanding that it is our duty to not only serve the animals, but to explain what and why we do what we do so that everyone gains a better understanding of our profession. Veterinarians are the best voices for veterinarians, and it is important for us to remember that education of humans is one of the most important aspects of our job in treating animals.
Many thanks to all of those who made our time at the fair possible, namely, Dr. Chelsey Ramirez and Dr. James Lowe, for organizing this opportunity. Thanks also to the fair organizers, Dr. Mark Ernst with the Illinois Department of Agriculture, the Illinois State Veterinary Medical Association, as well as the many exhibitors and all of their amazing animals. My lemon shake-up cup is all packed and ready for next year's state fair!