Updates on 'Skinny Old Cats'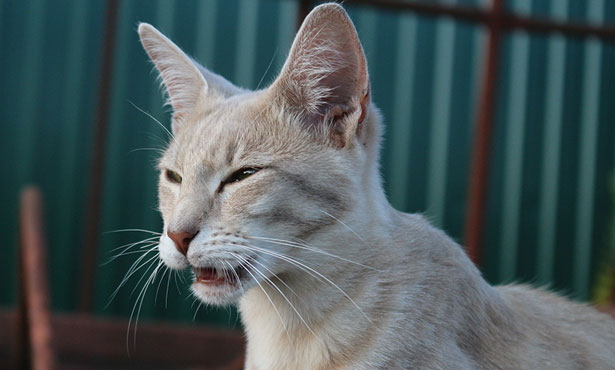 The following is excerpted from a presentation by Dr. David Williams at the Purina® Pro Plan® Veterinary Symposium, held in conjunction with both the 2016 North American Veterinary Conference and the 2016 Western Veterinary Conference.
This article reviews what is known about common age-related changes [in weight and digestion] and what may be done to halt or reverse the decline in body weight that is apparently a predictable prelude to death.
The incidence of low fat digestibility affects approximately 10% to 15% of mature cats (8-12 years of age) and 30% of geriatric cats (>12 years of age). In some geriatric cats, fat digestibility was found to be as low as 30%, with large stools (not frank diarrhea) and low body weight as the only clinical signs.
Approximately 20% of cats older than 14 years show protein digestibility lower than 77%. The incidence of low fat and protein digestibility tends to occur in the same cats. A marked decline apparently becomes particularly prevalent after around age 10.
It was reported that 100% of cats older than 7 years with serum tocopherol (vitamin E) less than 5 mg/L also have low fat digestibility, and that more than 90% of cats with serum cobalamin less than 100 g/L have low fat digestibility. Finding such low serum concentrations of either cobalamin or tocopherol can be the basis of inferring that a cat has low fat (and probably protein) digestibility.
Almost 90% of cats with idiopathic chronic enteropathy have some pancreatic involvement as reflected in increased serum trypsin-like immunoreactivity (fTLI) and/or pancreatic lipase (Spec fPL.)…. Given the superior sensitivity and specificity of these markers for pancreatic abnormalities compared to that of cobalamin and folate for small intestinal dysfunction, it is possible that some older cats with chronic elevations of pancreatic marker enzymes have a concurrent enteropathy that is not yet sufficiently severe or chronic to have caused changes in serum cobalamin or folate.
The approach to management in [cats with a presumptive diagnosis of idiopathic enteropathy] is dietary change (low-carbohydrate, alternative fiber source, novel antigen, or hydrolyzed diet), prebiotic or probiotic supplementation, correction of low serum cobalamin/folate concentrations, supplementation with vitamin E and perhaps other antioxidants, antibiotic treatment with metronidazole or tylosin (both often impractical in cats), and perhaps glucocorticoid therapy or immunomodulation with chlorambucil or cyclosporine.
With regard to older cats in general, evidence suggests that diet can play a role in maintaining body weight and fat mass—and prolonging life. [In recent publications by Cupp CJ, Clementine J-P, Kerr WW, et al.], a control diet (nutritionally complete and balanced adult cat food) supplemented with antioxidants (vitamin E and β-carotene), a blend of n-3 and n-6 fatty acids, and a prebiotic (dried chicory root) was associated with reduced decline in body weight and increased longevity (by more than 1 year) compared with feeding either the control diet alone or the control diet supplemented with antioxidants alone. These striking observations illustrate the potential benefit to be gained from dietary and other interventions to address the gastrointestinal changes that appear to be so common in aging cats.
©2016 Nestlé PURINA