Student Volunteers Foster Pets' Second Chance at Forever Home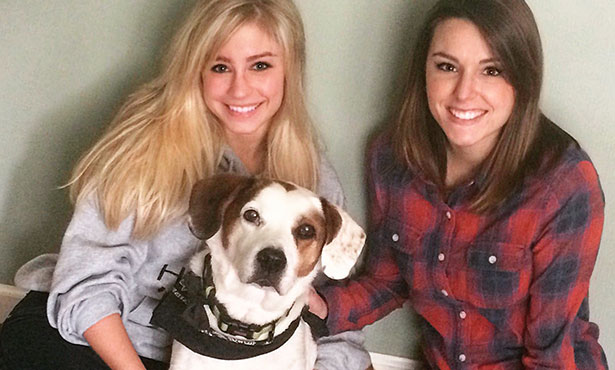 Happy endings make the hard work worth it
Old, sick, and homeless, River was in a very difficult position. At a typical animal shelter, this sort of pet doesn't stand much of a chance at adoption when so many young, healthy, and eager animals are available.
Luckily, an animal rescue organization called
Hospice Hearts
was established in the Champaign-Urbana area in 2015, just in time for River to benefit. Veterinary students from the University of Illinois have played a big role in making Hospice Hearts successful—including providing River with a new home.
Emily Wechter and Kelsey Stocks, third-year veterinary students at Illinois (shown above, with River), serve on the board of directors for Hospice Hearts, a non-profit, all-volunteer organization that helps cats and dogs whose owners are no longer able to care for them due to nursing home admission, serious illness, or death.
Jessica Sempek founded Hospice Hearts because, working in the health care field, she could "see the nervousness and anxiety owners have when they think about what will happen with their pets [when the owners are no longer able to care for them]."
Sempek says, "Many veterinary students want to spend their time helping and engaging in rescue work. Both Kelsey and Emily have the natural drive and desire to help. I have never doubted their capability, and I am grateful for all of their work."
On the organization's board, Wechter serves as the medical coordinator and Stocks serves as the adoption coordinator.
Once animals are in Hospice Hearts' care, Wechter makes sure the animals receive the veterinary help they need. Dr. Kandi Norrell, who is an alumna of the University of Illinois College of Veterinary Medicine, serves as the veterinarian for the organization.
"Dr. Norrell provides extensive veterinary work. Hospice Hearts makes sure to give the very best veterinary care of any shelter," says Sempek.
Stocks's main responsibility is to find the most suitable homes for the animals.
"I go to the adoption events to meet the potential adopters face-to-face. I know a lot about the animals' stories, so I know what they need most [in a new home]," says Stocks.
But before the animals are adopted, Hospice Hearts must find the animals a foster care environment, and many veterinary students—including Stocks and Wechter—happily offer their homes.
"I foster a lot of animals," says Wechter. "My home has almost become a senior center with all of the older cats and dogs my roommates and I have fostered."
Along with Hospice Hearts, Stocks and Wechter also volunteer with other non-profit organizations, such as Shelter Medicine Board and Peace for Pits.
"We are all very passionate about what we do. My favorite part about volunteering is how grateful these animals are," says Stocks. "These are old animals with really sad stories, but they are certainly loved."
The happy endings to these sad stories are what make all their hard work with Hospice Hearts worth it.
River, who was adopted by Wechter, has become something of an unofficial "poster child" for Hospice Hearts.
"When I got River to foster, he was only expected to live for two more weeks. He was old, sick, and had countless health problems," says Wechter. "But one day, he became exponentially better. Today, River is doing wonderfully and made the best recovery I can imagine."
As for the future of Hospice Hearts, the main goal is growth, and already more than 150 pets have been fostered and helped to find new homes.
"The amount of community support is incredible. Everyone is grateful for the organization," says Stocks. "We hope to continue Hospice Hearts and help more owners and pets."
—Nora McKay