Student Helps Animals in Honduras Externship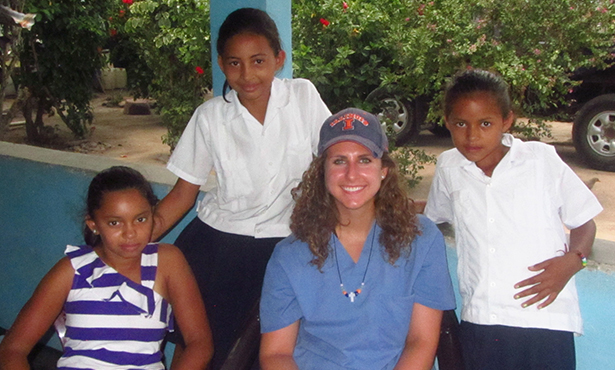 Having the opportunity to combine two personal passions is a rarity for many people, but this past summer I was lucky enough to do so. Not only was I able to travel, but I also used the veterinary training I have received to help animals in rural Honduras.
I spent two weeks in Honduras on a mission trip through Christian Veterinary Missions. This international organization's goal is to live out the Christian faith by serving others around the world through the veterinary profession. Through this group, veterinarians can do long-term mission work in an area or short-term trips, which is what I participated in.
The group consisted of four veterinarians from across the U.S. as well as 12 veterinary students from University of Illinois and Michigan State University. We met in Tegucigalpa, the capital city of Honduras, before making our way along many pot-holed roads to the Olancho region where we would be staying.
Our home for two weeks was Rancho el Paraiso, a ranch that specifically catered to all different types of mission groups coming from across North America. They had multiple buildings where different groups would stay, dormitory style. One of my favorite things about the ranch was the hammocks. Along the walkway of the building were 10 colorful hammocks that looked out over the tall mountains—a perfect spot to watch the dark clouds roll through. My second favorite thing about the ranch was the food. We ate in a summer camp, mess hall fashion, which was so fun! Our most common dishes were rice, black beans, corn tortillas, chicken, and fresh fruit. The mango and pineapple were some of the sweetest I've ever had!
Overall, we spent 10 days working in the Agalta Valley of the Olancho region. Each day we would have breakfast at 6 a.m. at the ranch. By 7 a.m., we would pile into two or three land rovers with all of our gear strapped to the top and drive to whatever village we were working in that day. Once we were there, we'd set up a large tent that would provide shade for our "OR" and start setting up our "pharmacy" (out of an old suitcase) and prep station (on a broken wooden table). Our setup was rudimentary to say the least, but by day three we were masters at efficiency and organization.
Once we were set up, the Hondurans would bring their animals to us to treat. Some were carried in their owner's arm, others were pulled behind motorcycles by a rope, and still others were carried in a sack. Throughout the course of the day, we would spay and neuter on average 10 animals, as well as treat about 30 more for parasites, fleas, and ticks. Although we could not always treat every animal that came to us, because of time constraints, we certainly exhausted ourselves trying. One of the biggest challenges was having everything from flies, children on bikes, stray pigs, fighting dogs, and even a monkey run through our "OR." Sterility was an unreachable goal, but we did an amazing job at working with what we had to achieve maximum impact.
We also worked with large animals performing castrations, de-worming, and pregnancy checking. The most drastic and often limiting factor in treating large animals in Honduras is the different types of restraint, or lack of restraint, used that many of us were not accustomed to. Most horses were lassoed and tied to barbed wire fences, to each other, or dragged to where they needed to be. Many of these animals were not used to being handled, and acted out in response to being tied up. This was one of the hardest aspects to watch, knowing that different methods could be employed to have better results. However, it was a cultural learning experience and gave us a more accurate view of how veterinary care is accomplished in rural Honduras.
In almost every village we went to we would set up our camp near a school because of the large amount of space available and the chance to interact with the kids. In between surgeries, we would give the children coloring books and cross necklaces to make, as well as play games with them. It was so rewarding to watch their faces light up when they received these small gifts. Although the language barrier was a challenge at times, it was fun to watch the children's reaction to our mediocre attempts at Spanish.
At the end of my two weeks in Honduras, I was both excited and sad. I was sad to be leaving this gorgeous country, sad to leave the Hondurans that were so grateful for our help, and sad to leave the veterinarians and students who went on this journey with me. I learned a lot about how to do surgeries, but more importantly, I learned a lot from my fellow group members. I learned how to work together as a team, overcome practical challenges, love one another when we were exhausted, and focus on helping others when all we wanted was a break. I was also excited, not just to see my family and friends, but because I knew this trip was life changing. It cemented the idea that I want to continue veterinary volunteer work in the future and to make giving back a priority. I am excited to see what the future holds and how I can continue to serve areas in need with the gifts with which I have been blessed.
—Katharine Kancer (DVM 2017)
Katharine was recently awarded the SAVMA underserved populations scholarship for her missions trip to Honduras this past summer. She originally wrote this article for SAVMA's Vet Gazette.