Staff Spotlight: Sandy Grable, CVT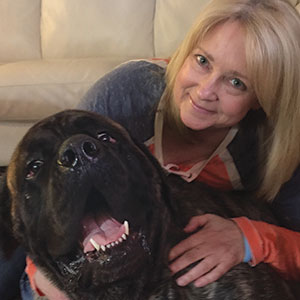 Sandy Grable, CVT, has been working as the sole dermatology technician since 2001. She graduated from Parkland College's veterinary technology program in 1999 and began working at the U of I Veterinary Diagnostic Laboratory. When one of her English mastiffs was diagnosed with atopy and food allergies by Dr. Karen Campbell, that's when her interest in dermatology began and she was able to transfer to the dermatology service in the hospital.
Prior to her career as a certified veterinary technician, Sandy was a musical ambassador for the United States Air Force and has traveled to numerous countries playing for audiences of tens of thousands and Heads of State. Sandy played clarinet, sax, and bagpipes, to name a few. She is originally from Davenport, Iowa, but when she and her husband retired from the military, they decided to settle in central Illinois.
Sandy has an interest in mycology and loves working with the dermatophyte cultures and being able to identify both dermatophytes and contaminates. She enjoys reading cytologies and assisting her doctors with video otoscopies, intradermal tests, and laser surgeries. She also prepares all the immunotherapy prescriptions for their patients and enjoys interacting with their clients. She has given several talks to technicians, chaired roundtable discussions at the annual dermatology conferences, written for online publications and wrote a book chapter on dermatophytes for veterinary technicians, which is in the process of being published. She is currently the president-elect of the newly formed Academy of Dermatology Veterinary Technicians (ADVT) and is one of the charter members.
During her free time she is either working on ADVT items, spending time with her English mastiff, or autocrossing her 2012 Mustang GT 5.0 on weekends with the Champaign County Sports Car Club.