Staff Spotlight: Jessica Garrett, CVT, VTS (ECC)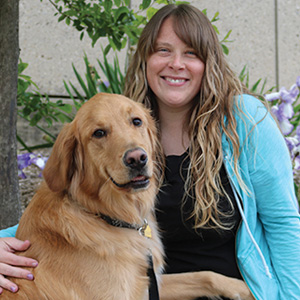 Jessica Garrett, CVT, VTS (ECC), is the clinical coordinator of the small animal emergency service and also manages the blood donor program for the Veterinary Teaching Hospital. She joined the University of Illinois in 2005, three years after completing Parkland College's veterinary technology program. Initially Garrett worked in the hospital's intensive care unit and internal medicine service before transferring to the ER.
She enjoys the unpredictability and fast-paced nature of working in the ER and has served as clinical coordinator there since 2008. Her favorite things are difficult and unique cases that need advanced nursing care. She loves placing challenging IV catheters/central lines and difficult blood draws! She also enjoys critical cardiology cases with EGC interpretation, blood gas interpretation, and transfusion medicine.
Garrett earned Veterinary Technician Specialty certification for Emergency/Critical Care in 2014. She is an active mentor for several AVECCT-VTS applicants and candidates and is on the organizing committee for the Academy of Veterinary Transfusion Medicine Technicians, which is currently pursuing specialty status.      
Outside of work, Garrett stays just as busy with her husband and two active kids, ages 5 and 7. She also has a one-year-old golden retriever, Clyde, and two cats, Boo and Sullivan. She enjoys outdoor activities and sports (Go Cardinals!) and loves to travel.