Shelter Medicine Comes of Age at Illinois and Beyond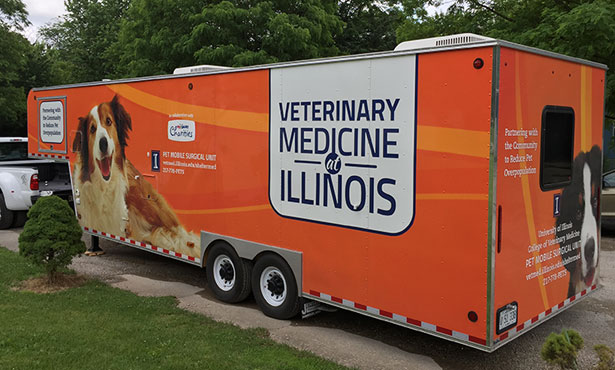 In 2013, G. Robert ("Bob") Weedon, DVM, MPH, was the half-time shelter veterinarian at the Champaign County Humane Society. He saw the need to enrich the experience of Illinois students on the shelter medicine rotation, and received a half-time faculty appointment in the college's Department of Veterinary Clinical Medicine to do so.
In the past three years, so much has happened:
Shelter Medicine was recognized as a specialty area by the American Board of Veterinary Practitioners in 2015;
Shelter Medicine became a distinct service area within the Veterinary Teaching Hospital, under the full-time direction of Dr. Weedon, in August 2015;
The college's Shelter Medicine Program evolved from a rotation at the Champaign County Humane Society to a program that takes students to shelters in Vermilion, Douglas, Coles, McLean, and DeWitt counties in east central Illinois;
The program received a grant from PetSmart Charities to fund a mobile sterilization unit and two staff members—a veterinary intern and a certified veterinary technician, each for two years.
The number of fourth-year veterinary students gaining experiential training as a result of the Shelter Medicine Program at Illinois has grown dramatically.
Between 2012 (Dr. Weedon's first full academic year with the program) and 2016, the number of students engaged grew from 28 to 86 and the number of students on a rotation doubled from two to four. Over that same period, the average number of solo surgeries each student performed during a two-week rotation increased from 30 to 50, and sometimes more.
Increase in the Shelter Medicine Rotation 2012-2016
| | | | |
| --- | --- | --- | --- |
| Class Year | Students/Rotation | Total Students | Surgeries Performed |
| 2012 | 1-2 | 28 | 1,003 |
| 2013 | 2 | 50 | 2,191 |
| 2014 | 2 | 51 | 3,810 |
| 2015 | 2 | 66 | 4,169 |
| 2016 | 3 | 86 |  4,200 (estimated) |
The impact on the animals and the communities served has also been tremendous. The number of animals sterilized has quadrupled, to a projected 4,200 animals in the most recent academic year.
The majority of these are shelter animals that are then adopted without the possibility of getting pregnant, but many communities have low-cost sterilization programs for the pets of low-income members of the community.
"Since our partnership with the Illinois Shelter Medicine Program, both animal intakes and euthanasias have been reduced. I believe that this is a direct result of the sterilization program," said Julie Deters, director of the Coles County Animal Shelter.
It is interesting to note that 90 percent of the animals the program sterilizes have never been to a veterinarian.
"Not only are we not competing with private practitioners, we are potentially driving clients to them because we educate people about responsible health care and provide information as to where they can obtain it locally," Dr. Weedon added. "The students benefit from the experiential training, the communities benefit because of reduced animal overpopulation, and the animals benefit because they are not continually reproducing."
A Resource for You
Dr. Bob Weedon, who has more than a decade of experience in shelter medicine, is a resource for veterinarians. "I receive inquiries all the time from veterinarians who work with shelters and rescue organizations that do not have the resources to employ a veterinarian," he said. "I view that as part of the University's outreach to communities and veterinarians in them."
Read more on the Shelter Medicine Program website or contact the program at vthsheltermed@vetmed.illinois.edu or (910) 778-PETS (7387).
Contact Dr. Weedon at weedonr@illinois.edu or (910) 297-2771.