Scholarship Links Commitment, Caring, and Cancer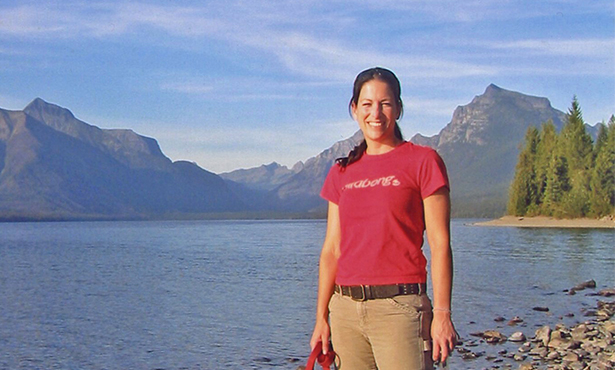 Fifteen years separate the graduation of Mark Byrum, Class of 2016, and Dr. Casey Cadile, Class of 2001, but the two share connections on several levels.
Byrum, who is the first recipient of the Dr. Casey Cadile Memorial Scholarship, actively pursued his love of animals and veterinary medicine long before he reached college. Dr. Cadile grew up with pets of all sizes and volunteered at the San Francisco Zoo from the age of 12 onward.
Both approached their career decisions thoughtfully, motivated by the desire to give back. And for both, cancer became a defining factor in their lives.
Dr. Cadile, who is remembered as having "an incredible heart, adventurous spirit, and unlimited courage," was diagnosed with breast cancer while a veterinary student. Despite the tolls of treatment, she completed her degree in five years, and went on to practice as a boarded veterinary oncologist in her native California. Her zest for life and fierce love of animals was evident in everything she did. After she died of cancer at age 40 in 2013, her classmates and family established the scholarship in her memory.
Byrum was a child when his father died of lung cancer. As a veterinary student, he was influenced by this life experience to explore the field of oncology. After working in the laboratory of Dr. Tim Fan as part of the Summer Research Training Program, Byrum was able to continue his research, ultimately presenting his findings at national veterinary cancer conferences.
His career aspirations have evolved from a focus on general practice to a position in academia where he can "practice veterinary medicine, contribute to research, and teach."
In a role as veterinary educator and researcher, Byrum will touch so many more lives, both human and animal, than he ever could as a general practitioner. And through this memorial scholarship, Dr. Cadile's spirit and courage will continue to impact the profession and university she loved so much.
—Irenka Carney