Ring-Billed Gull Treated for Spinal Abnormality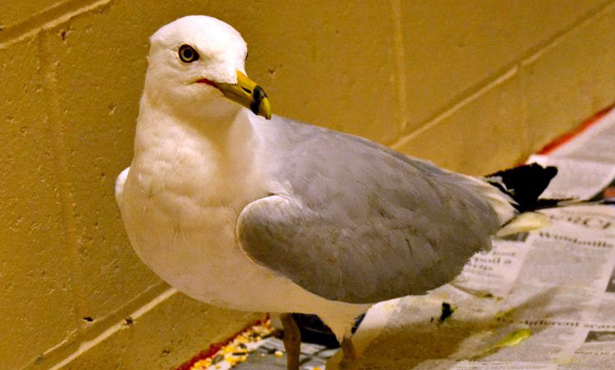 The Wildlife Medical Clinic admitted a rare visitor to central Illinois a few weeks ago—a ring-billed gull! During his initial assessment, the student volunteers noted that the bird was generally healthy but unable to walk or even stand. When an animal has weak or paralyzed limbs, a neurologic exam is performed in order to localize the problem area and determine how severe it is. A neurologic exam consists of testing conscious proprioception (seeing if the animal knows where its legs and feet are in relation to its body), motor function (seeing if the animal can move its legs, even if it can't stand), reflexes, and pain sensation. Based on the results, we can tell if the problem is in the legs, the spine, or the brain, and we can even get an idea for the prognosis for recovery and return to function. In this animal's case, we learned that the bird most likely had a spinal abnormality, and since he could still move his legs, he had a decent prognosis. Unfortunately, even with high quality x-rays, spinal lesions are not always able to be seen, as was the case for this bird. Nevertheless, the students proceeded with treatment for a suspected spinal injury.
Treatment for spinal injuries in animals often includes anti-inflammatory drugs (Aleve and Tylenol are anti-inflammatory drugs used in humans; for animals, we use different drugs for safety reasons), cage rest, nutritional support, fluid therapy, and occasionally physical therapy and laser treatment. For severe problems, surgery is also an option. This gull received IV fluids, an anti-inflammatory drug twice daily, supervised physical therapy in a water pool and regular feedings of fish slurry (thick, smelly stuff we have to feed piscivorous (fish-eating) animals who won't eat on their own). A couple of days into treatment, we hadn't noticed much, if any, improvement, so we decided to be a little more aggressive with our treatment protocol and increased the dose of the anti-inflammatory drug to see if it would have any effect. Within 48 hours, the bird was standing and taking small, unsteady steps, and a few days later, he was walking! The anti-inflammatory drug has since been discontinued, and the bird hasn't shown any sign of regression. Just to be safe, we have decided to send him to a rehabilitation center for a little more conditioning before we release him, but he appears to have made a full recovery and is doing quite well!
Ring-billed gulls were cleverly named because of the black ring around their bills. Although gulls of many species are prevalent along coastal areas, plenty of gulls, including the ring-billed, spend their entire lives inland on fresh water and forage in parking lots, garbage dumps, and fields. They often migrate back to their hatching grounds to breed each year, so despite the fact that we don't know exactly where this bird came from, we can be fairly certain he'll make his own way home in time.
Do you have questions or comments? I'd love to hear! Follow me on Twitter @NickiRosenhagen or post to the Wildlife Medical Clinic account on Facebook or @WildlifeatIL.