Police Dog Saved from Amputation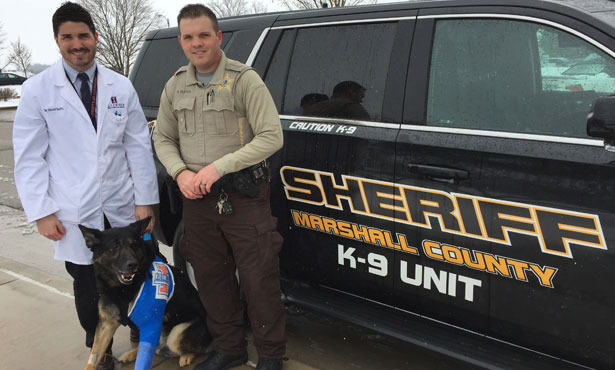 Flits, a 10-year-old German Shepherd police dog with Marshall County, was injured after falling through a ceiling while investigating a burglary at a pharmacy. Flits's handler, Deputy Bob Vester, was told at a veterinary clinic that the dog's leg would need to be amputated due to the severity of the injury. Instead, surgeon Dr. Daniel Duffy and his team at the University of Illinois Veterinary Teaching Hospital orthopedic department were able to perform a successful repair of Flits's nasty elbow fracture.
"Normally, this type of fracture is extremely hard to reconstruct," Dr. Duffy said. He was treated first via arthroscopy to evaluate the severity of the damage to his joint surface with bone fragment removal, followed by open fracture fixation with a plate and screws. Basically, his elbow joint was rebuilt. He will return to the U of I regularly for follow up with the orthopedic department.
"Flits has a long road to recovery, involving weeks of physical therapy and rehabilitation, however we are very happy with how Flits is doing," Dr. Duffy said. "The hope is he will return to his police duties out in the field when he heals."
"The community support has been tremendous," Marshall County Sheriff Robert Russell said. Folks have called their police department asking how they could help. Donations have been coming in steadily and Big Barker even donated one of their orthopedic beds for Flits.
Flits is getting lots of love and care at home with Vester. Vester's wife happens to be a veterinary technician and is able to change Flits's bandages herself.
His most recent check-up today included changing his bandage and splint (featuring a hand-drawn Illinois decal by veterinary technician Kelly Lecher) and rendering his range of motion. In another 2 to 4 weeks, Flits will begin physical therapy including the underwater treadmill and massage.
In January, Flits and Vester were named K-9 Team of the Year by the Central Illinois Police and Working Dog Association. Flits has been a working dog with Marshall County Police Department for seven years.
Stay tuned for more updates and photos of Flits's recovery.