Contact:
Chris Beuoy
217/244-1562
beuoy@illinois.edu
Celebration Marks Centennial Year of Trans-Fat Researcher
Fred Kummerow, an emeritus professor of comparative biosciences at the University of Illinois
College of Veterinary Medicine,
has spent more than six decades studying the dietary factors that contribute to heart disease. Dr. Kummerow has painstakingly collected and analyzed findings that identify trans fats and unnaturally oxidized cholesterol as the underlying causes of heart disease rather than dietary cholesterol itself.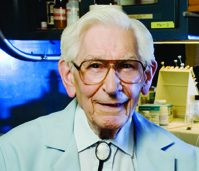 In recognition of his tireless contributions to health and science, the college is hosting the
Fred Kummerow Centennial Celebration,
a symposium and luncheon honoring Dr. Kummerow in his 100th year.
The event will take place on Wednesday, April 23, 2014, at the
I Hotel and Conference Center,
1900 South First Street, Champaign, Ill. The event will begin at 10 am with a message from University of Illinois president Dr. Bob Easter as well as Dr. Duncan Ferguson, who heads the Department of Comparative Biosciences. The program ends at 4 pm with traditional birthday cake and photos. A registration fee of $20 includes a lunch buffet.
To register, visit
go.illinois.edu/CelebrateRSVP
or call 217-333-2761. Registration deadline is April 21.
Speakers will include:
Dr. Mohan Kokatnur, Retired Professor, Louisiana State University Health Sciences Center
Dr. William Marshall, Owner/CEO, IMMUNOM Technologies, Inc.
Dr. Chris Masterjohn, Postdoctoral Research Associate, Kummerow Lab
Dr. Ken Oye, Associate Professor of Political Science and Engineering Systems, Massachusetts Institute of Technology
Dr. Roger Perkins, Retired, Lead Toxicologist at 3M
View the event invitation and agenda.
Fred Kummerow was born in Europe in 1914. He immigrated to the United States with his family at the age of 9. After earning a doctorate in biochemistry from the University of Wisconsin-Madison, Dr. Kummerow came to the University of Illinois, where he became a pioneer of trans-fat research, and one of the first scientists to assert a link between heart disease and processed foods.