Contact:
Chris Beuoy
217/244-1562
beuoy@illinois.edu
May 2 Walk on the Wild Side to Support Local Wildlife
URBANA - On Friday, May 2, wildlife fans can take a Walk on the Wild Side in support of area wildlife.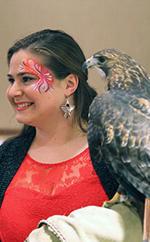 This second annual dinner and auction event, held from 6 to 9 pm at the Pear Tree Estate in Champaign, will benefit the Wildlife Medical Clinic, part of the University of Illinois College of Veterinary Medicine.
Guests will enjoy a gourmet dinner at the Pear Tree Estate, a new venue that combines the rustic beauty of the country with the comfort of elegant space.
During the evening, an owl from the Illinois Raptor Center will fly over diners heads during the raptor demonstration, and the Zoo Lady's Zoo Crew will bring out your inner wild side with face painting.
The event will feature both a silent and live auction. Auction items will include adventure and vacation packages, including the chance to swim with dolphins, and one-of-a-kind animal footprint artwork by wild animals, including Clinic residents Nokomis, a great horned owl, and Odin, a red-tailed hawk.
Entry price is $80 per person for general admission. Guests are encouraged to register before April 22.
The Wildlife Medical Clinic, a non-profit, volunteer-run organization that cares for nearly 1,500 sick or injured animals a year while training veterinary students and educating the public about local wildlife, depends solely on fund-raising, donations, and grants for its operating budget.
For more information, visit
vetmed.illinois.edu/wmc/
, or call 217-333-2761.