Keep Going: A Message for My Vet School Colleagues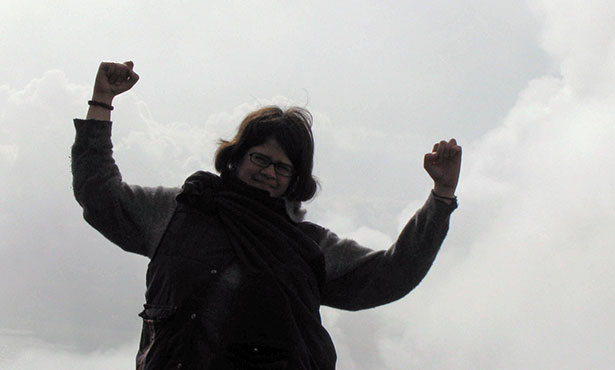 If you feel like you can't go on … keep going.
Recently a line from the Mozambiquan national anthem ("pedra a pedra…") popped into my head. My Portuguese skills are pretty laughable, but I know it means "rock by rock," or more familiarly "brick by brick." Wikipedia says the full line goes "pedra a pedra construindo um nova dia" or "rock by rock constructing the new day."
Why does this random brainwave matter?
In a minute my class will trade stuffy lecture halls for bustling hospital halls. This opportunity fuels exhilarating daydreams, but it also has me ruminating. There were times in my first two years when I thought the insanity would never end. Like my life would always be this intense, inescapable ball of joyous stress we casually refer to as vet school. However, "pedra a pedra" I plowed on.
We All Carry Burdens
Everyone's vet med rucksack carries different heavy things: losing loved ones, grappling with academic rigor, raising kids. Plus all the tiny pebbles of quizzes, spays, housework, and so on that we carry around. One of the rocks in my blue Hills bag is a struggle with vet school social dynamics. I often feel outcast from the social flow here. I have admittedly participated in that distance, by design at times, to protect myself. Our social slipstream has not always been kind, has sometimes been aggressively unkind, and I am old enough to know I don't have to be a "friend" to anyone who treats me bad. Nope. There are many good people, from besties to classmates that have surprised me by repeatedly reaching out, helping to keep me sane. Plus there are some pretty great people to learn from at this school, from Byron the overnight janitor in the Large Animal Clinic to [insert favorite professor].
A skyline view of my vet med feels is that it seems like my mojo has been broken, which is a relatively unfamiliar feeling. My path has been vertical, horizontal, sideways, and even in Afrikaans, but I normally flow pretty well with my surroundings. Feeling out of whack and without your mojo is not cool. However, I came here to get a DVM paper, so "pedra a pedra" I plowed on.
Moving Toward the Meaningful
I have found activities I liked doing, both by accident and intention. Club involvement has brought me great joy. (Shoutout to Animal Welfare Club, ISVMA [Illinois Student Veterinary Medical Association], and VOICE [Veterinary Students as One in Culture and Ethnicity]!) I have the BEST Big and Little Siblings. I have learned a thing or three by being out in the community and working. I have felt the gluttonous pleasure of jam-packing my week with extra lunch lectures because I love learning. Plus I have more access now than ever before to snuggle cute animals. These joys haven't come easily. I have survived some gnarly situations too. When I felt disoriented because I was in one (or many) of these tough situations, "pedra a pedra" I kept moving toward the meaningful.
Recently these seeds have begun to sprout and shower positivity all over. Pardon this part of the story as it's kind of a long humble brag, but I'm darn proud of what has come to pass.
I spent this last year on the road. You can read about my convention cheerleading in a previous post. Bottom line: I learned a ton and met many people. More of the vet med playing board is revealed, and I'm looking forward to entering those spaces soon. I have had great opportunities, like working at the vet med farm, serving on the ISVMA board, going to AVMA's Fly-In, writing this blog, and more. Each has added its own spring in my step and tool to my belt.
I spayed a dog and a cat this year! No one died and, dare I say, at least one of those surgeries was even enjoyable.
I'm passionate about social justice, which is not something people talk about at our campus. Probably because it's safer to talk about dogs instead of white privilege and intersectionality. However, my work with VOICE brought a lot of fresh subject matter to the campus this year, like disability ally training and a microaggressions lecture. These events were well attended by faculty, staff, and students, which was also unique in that club events are often solely a vet student affair. Through ISVMA, I organized a diversity/inclusion speaker for the 2016 Convention. And have you seen the new Inclusive Illinois bulletin board on the second floor of the Basic Sciences Building?
I don't expect these grains of sand to change our vet med world right now, but "pedra a pedra" those no-longer-new ideas are blossoming and people are coming together to learn. Those are definitely a few of my favorite things. And, shoot, I even won an international animal welfare judging competition this year. Is that insane or what? I could add myriad small victories to this list because it seems like slowly my mojo is working again.
"Pedra a pedra construindo um nova dia," indeed.
Ok, great story. What's the point?
I'm telling you to keep going.
First-years who feel like they can't stomach another arrow question, … keep going. Second-years getting OSCE jitters, … remediate! And then keep going. Third-years about to embark on our own exam-heavy brand of March madness, … keep going. Fourth-years about to pop out into the real world AS DOCTORS, … keep going. To those of you sad and feeling alone, … keep going. If you feel like you can't go on, … keep going.
Keep investing time in the things you love even if it doesn't seem like it's giving anything back. "Pedra a pedra" those loves will grow into unimaginable beauty that will fortify your strength of spirit. You will build the new day brick by brick. That's why we're here, isn't it?
If you need a pick-me-up, here is one of my patented "go get 'em" moves from Kid President.
If you need a bigger, or pre-emptive, pick-me-up, please remember there is counseling available at the Turner Student Services Building. It is included in the fees you pay each year. I see a counselor there just to talk about what's going on. Nothing major, but majorly helpful. You aren't a bad person if you seek help. You are just a person seeking help.
Find out more about these services at: http://counselingcenter.illinois.edu/
—Lynsee Melchi (shown in the photo at top after completing a climb of Table Mountain near Cape Town, South Africa)