Annual Veterinary College Open House Set for October 4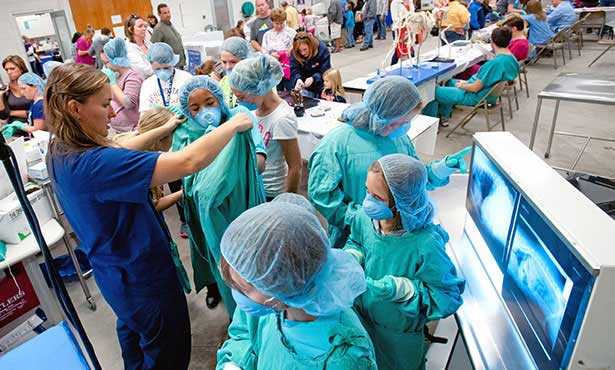 On Sunday, October 4, from 10 a.m. to 4 p.m., more than 350 veterinary students will host the public for a behind-the-scenes look at the state's only veterinary college. From prospective veterinarians to anyone fascinated by animals, everyone will find something of interest at the University of Illinois veterinary college Open House.
The event offers more than 40 fun and educational exhibits and hands-on demonstrations. Visitors will find answers to questions ranging from "why do horses wear shoes?" to "how do dogs regain mobility after surgery?" There will also be information about veterinary education and careers, and lots of animals and animal-related activities for young and old.
Prospective veterinarians are encouraged to attend Open House. Career talks will demystify the path to becoming a veterinarian and offer details about the unique Illinois curriculum and the Doctor of Veterinary Medicine degree program.
Returning this year is "Teddy Bear Repair." Kids are encouraged to bring their slightly injured stuffed animal toys, and veterinary students will patch the toys up, free of charge.
The event is free; registration is not required. Free parking is available in Lot F-27 at 2001 S. Lincoln Ave., Urbana, at the College of Veterinary Medicine. For a list of exhibits and directions, see vetmed.illinois.edu/openhouse/.
Please note that the event is for human visitors only.