Holland Wins People's Choice Award at Research Competition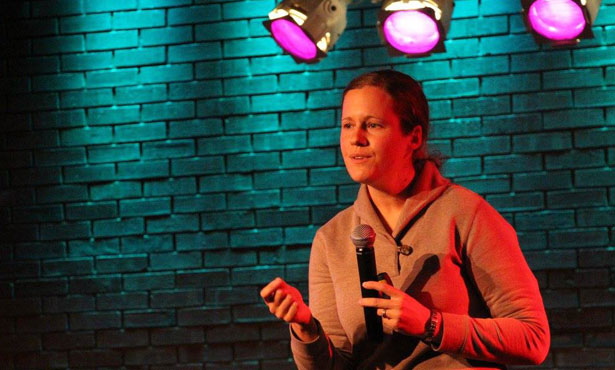 The College of Veterinary Medicine's very own Robin Holland won the People's Choice Award at the Graduate College's first ever Research Live! competition on November 11 at the Krannert Center for the Performing Arts.
The 65 graduate students in the competition were challenged with presenting their research topic using only two slides in just three minutes. Presentations were scored on delivery, clarity, effectiveness of visual material, and accessibility of language.
Holland's presentation, "Taking Down the Powerhouse," focused on her research in pathogenic microorganisms, specifically exploring a common strategy that pathogens use to cause disease. Pathogens make and release toxins that target the mitochondria of host cells, which generates the energy essential for life and are involved in many other important cellular processes.
Holland decided to focus on this topic due to her fascination of pathogens' interaction with mitochondria while working in her current research laboratory under Dr. Steven Blanke, professor of microbiology.
"I love figuring out how pathogens interact with a host, what factors they use to cause disease or subvert host defenses," Holland says. "For being so incredibly simple compared to our cells, bacteria and viruses are able to do incredible things."
Holland has worked to develop this topic for the past two years, so she was excited that the competition gave her an opportunity to present on her current research pursuits and practice her public speaking techniques.
"I decided that if I am ever going to improve my speaking skills, I need to do things that I am uncomfortable with, and even if I fail, at least I know I tried and can learn from those experiences and move forward next time," Holland says.
Holland was also excited to present her research in an accessible way. Participants were encouraged to give a presentation suitable for a general audience, which is something Holland believes to be important.
"I feel that there is a big disconnect between scientists and the public. Average members of the public often do not understand why science takes so long to do and why we are spending millions of dollars to study such intricate things that we cannot see, like a molecule in a fruit fly," Holland says.
The goal of this competition was for graduate students to think about their research from a different viewpoint. They had to convey a message that is easily understood by an average member of the community while also expressing the importance of their work. Holland was able to achieve this by comparing how pathogens hurt the human body to the concept behind the art of war. In her presentation, Holland used a metaphor to describe pathogens as the enemy that sends small bombs to their target—or the body's powerhouse, the mitochondria.
The analogy seemed to work in her favor since the audience chose her for the People's Choice Award, which Holland saw as a great honor.
"To me, that means that I was successful, that they heard and understood my message, and they liked it enough to vote for me," Holland says. "I could not have hoped for any better recognition."
Watch a video of Holland's presentation on "Taking Down the Powerhouse."
—Nora McKay