Green Heron Treated, Released, and Reunited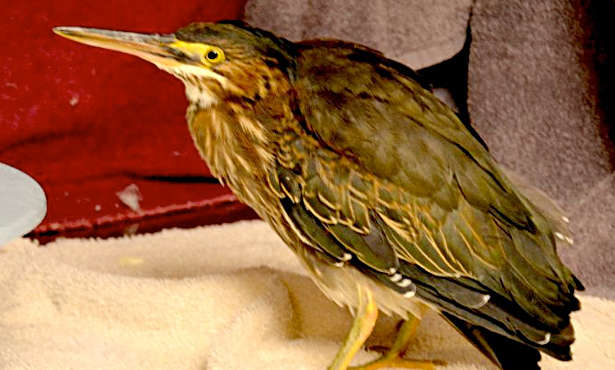 Because the Wildlife Medical Clinic is a hospital but not a long-term rehabilitation facility, the student volunteers rarely get to see the final results of their hard work and dedication (the release of animals back into the wild). Last week was a rare occasion when they did.
An adult green heron was brought in after some kind neighbors freed him from some fishing line that was wrapped around his wing. The damage wasn't life-threatening, but the bird was clearly in pain and unable to fly. After a through physical exam, the veterinary students determined that the bones of the wing were intact but the line had created wounds and swelling over the bird's elbow and propatagium. The propatagium is the webbed skin that stretches from a bird's shoulder to its carpus (wrist). This structure is pretty important for flight, and any damage to it is enough to raise our blood pressure in the clinic!
The students in charge of the bird's care were vigilant about managing his pain and keeping the wounds clean. They performed range-of-motion therapy on the wing, used a therapeutic laser, and even massaged the area to prevent contraction of the damaged tissue. By the end of the week, the wounds were mostly healed, and the bird had become very flighty in his cage. After a quick test flight in an outdoor cage, the heron was cleared for release.
The bird's rescuers stayed in contact with the WMC throughout his time in the hospital, and they informed us that the heron's mate appeared to be waiting for him. When it was time for release, the finders were able to show the students exactly where he was found in order to ensure a happy reunion.
Discarded fishing line is incredibly dangerous to wild animals. Every year, the WMC cares for animals with injuries from fishing line wrapped around their legs, wings, and necks, and sometimes the damage is too severe to repair. If you find fishing line outside, please dispose of it properly to help keep our wildlife safe!
Do you have questions or comments? I'd love to hear! Follow me on Twitter @NickiRosenhagen or post to the Wildlife Medical Clinic account on Facebook or @WildlifeatIL.