Honoring 16 Years of Service with a Smile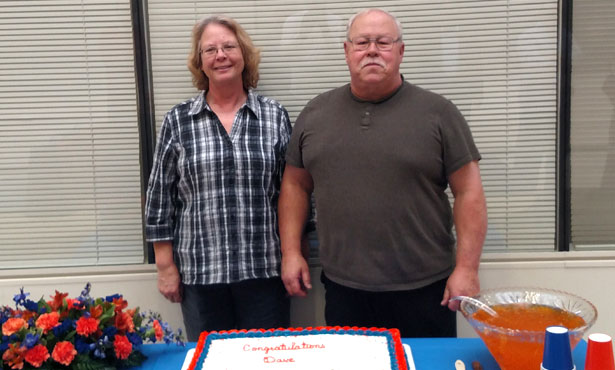 The College of Veterinary Medicine says goodbye and congratulations to Dave Stoppkotte on his retirement as an instrument and measurement technician. He has been a trusted and valued resource in the college for the past 16 years. His smile and positive attitude always managed to improve everyone's day.
Dave began his career serving as a maintenance chief in the Navy for 20 years. After his service, he enrolled in Parkland College before being referred to the Life Sciences Electronics Shop on the University of Illinois campus. It was there that he blended his unique skill set from his Navy days of repairing jet planes on aircraft carriers with repairing research equipment.
Dave started at the College of Veterinary Medicine in 1999 as an instrumentation technician. He spent many years working for the Department of Pathobiology before joining Facilities Services in 2011. Dave's role has expanded over the years to include such duties as cleaning and fixing microscopes, monitoring the heating and ventilation systems, and assisting with projects like the comprehensive energy savings renovations begun in 2012 and designed to reduce energy use in college buildings by nearly 40 percent.
In his 16 years at the college, Dave has made quite an impression on faculty, staff, and students alike. His friendly personality is one of the many things that make Dave a joy to work with and a person many admire.
Lois Hoyer, professor of pathology and associate dean for research and advanced studies at the college, sums up how valuable Dave is.
"Dave is an incredible asset to the College of Veterinary Medicine. He is the 'go to' person for so many things, especially in the research arena. Dave knows everybody in the college and everybody knows how competent he is," Dr. Hoyer says.
Dave says there is no secret as to why he is so friendly and personable no matter the circumstances.
"It took me many years to finally learn how to appreciate life and how to live it so it can be wonderful in every respect," Dave says. "If you like yourself, the world is a much easier place to live in and people will be more accepting of you. When you encounter people, an engaging smile and a friendly 'good morning' will almost always bring a smile to that person's face and lift their spirits a bit."
This affable nature not only allowed Dave to be relatable, but also allowed him to handle less than ideal situations while fixing equipment.
"Dave is one of the few in the college who would run into a room to take care of a machine that is malfunctioning at high speed," Dr. Hoyer says.
Dave's attitude and reliability under duress will be the lasting hallmarks of his career at the college.
As for retirement plans, Dave still has plenty to do while spending time with his wife, Debi (pictured above), on his farm.
"I will have no problem finding stuff to do and I definitely won't get bored," he says. "I have two project sports cars to fix up and enjoy driving. I can't wait to start!" It seems as though that was Dave's mantra every day for the past 16 years.
—Bryan Jones Jr.