Faculty Spotlight: Stephanie Keating, DVSc, DVM, DACVAA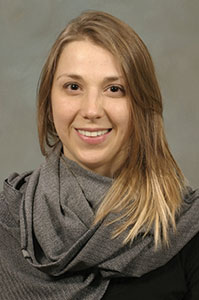 Stephanie Keating is a new clinical assistant professor at Illinois.
Can you tell us about your training?
I completed my DVM degree not far from home at the Ontario Veterinary College in Canada and subsequently went into small animal private practice for a year. During that time I completed a certificate in laboratory animal medicine and became dedicated to pursuing anesthesia. I returned to the OVC for anesthesia residency and completed a DVSc degree in anesthesiology. I practiced as an anesthesiologist in specialty referral centers in the Toronto area, and just recently made the leap to Illinois.
What interested you the most about coming to Illinois?
I enjoyed my time as an anesthesiologist in private referral practice, but I found that I really missed teaching and the opportunity for research, which ultimately guided me back to academia. It was an easy decision to make the University of Illinois my new home because of the opportunity to pursue these interests surrounded by welcoming, experienced, and collaborative colleagues. Illinois has always had bright minds in anesthesia and I feel lucky to be joining the team.
What drew you into the specialty field of animal anesthesia?
I have always loved the applied pharmacology of anesthesia and considering all aspects of the procedure as well as the animal's physiology and personality in order to create a protocol that will be optimal for the patient. I have had incredible mentors who have encouraged me and guided me as I have pursued the specialty and part of my passion for the field was ignited by them.
What the most important things general practitioners should be aware of regarding anesthetizing patients?
Considering the full patient history, the procedure, and tailoring an anesthetic protocol to that patient is so important for all of us performing anesthesia. It's also important to recognize how much can be done in a general practice setting in regards to local anesthetic techniques and pain management without the need for special supplies. Finally, practitioners should be aware that there are many good resources for ongoing anesthesia education and our anesthesia team at the University is happy to be one of them!