Faculty Spotlight: Santiago Gutierrez Nibeyro, DVM, MS, DACVS, DACVSMR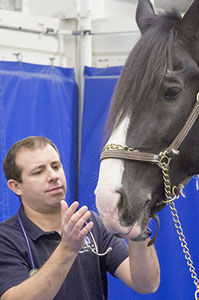 Dr. Gutierrez is a clinical assistant professor of veterinary clinical medicine.
What was your educational and career path before joining the equine faculty at Illinois in 2008?
I grew up around horses as my family used to own a cattle ranch in Northern Argentina, where I spent countless hours helping my uncle, who is a large animal veterinarian. I earned a veterinary degree, graduating with honors, from the National University of La Plata in 2001. Then I worked in private practice in Argentina and Indiana and completed rotating equine internships at Alamo Pintado Equine Medical Center in Los Olivos, Calif., and at Marion duPont Scott Equine Medical Center at Virginia Tech, where I also completed my surgery residency.
What research projects are you currently working on?
We are investigating how foot injuries impact locomotor forces detected with a large animal force plate. The ultimate goal of this investigation is to develop more effective treatments and farrier strategies to manage horses with various foot lesions.
What's new in the world of equine surgery?
Our current research and development of an alternative "tie-back" surgical technique for horses with laryngeal hemiplegia, or "roarers," shows a lot of promise. I anticipate using this new technique for our patients very soon to restore normal airway function more effectively and reliably without running into the frequent complications common in the traditional surgical technique: progressive loss of arytenoid abduction and laryngeal lumen.
Tell us about a case that had a surprisingly good outcome.
The one that comes to mind because it was fairly recent is a palomino mare stabled in Urbana that presented with a comminuted fracture of the left hind middle phalanx. The fracture was repaired with stainless steel plates and several screws and the pastern joint fused as is done routinely in these cases. Although most horses with similar injuries typically remain slightly lame, this mare went on to become sound and is regularly ridden by the owner. This story was featured in the local paper as the owner was very satisfied and a few years ago equine surgeons wouldn't have attempted to repair such a fracture.
What do you enjoy most about being an equine surgeon?
Despite the long work hours, I love improving patients' health status and finding creative solutions to surgical problems that horses commonly experience in the Midwest. I believe research is a vital part of academic veterinary medicine and is critical to identifying novel solutions for clinical problems in animals. Being an equine surgeon at Illinois not only provides me with the opportunity and resources to research and develop innovative approaches or solution to frequent surgical problems of horses, but also to serve and interact with our referring veterinarians and horse owners across the state. I particularly enjoy providing surgical consultations to our referring veterinarians, many of whom were my former students.