Faculty Spotlight: Laura Selmic, BVetMed, MPH, DACVS-SA, MRCVS, Founding Fellow of ACVS Surgical Oncology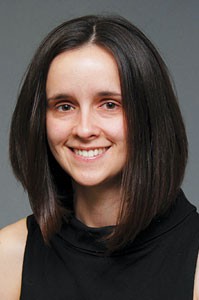 Laura Selmic has been a faculty member at the University of Illinois since September 2013. She is an assistant professor of soft tissue and oncologic surgery.
What's your favorite part of being a surgical oncologist?
My favorite part is being able to help people and their pets navigate through the stress of cancer surgery and being able to help the pets lead a better quality of life.
What are you speaking on or what studies are you working on recently?
I am researching novel imaging technique (optical coherence tomography) to detect residual cancer cells following surgery. The idea is that we could use this imaging at surgery to see if there is residual cancer to help us to apply targeted treatment to reduce the chance of cancer recurrence. We opened a clinical trial on November 1, 2015, to investigate whether this imaging method can tell the difference between normal and cancerous tissues for soft tissue or injection site sarcomas in dogs and cats.
Is there something that general practitioners should be most aware of regarding oncologic soft tissue surgeries?
Skin cancer in dogs is very common. We provide the best care for our patients if we find out what the mass is before we remove it by performing tests like fine-needle aspiration and cytology. This allows us to know if the mass is malignant and apply the recommended margins for our resection, increasing the likelihood of successful and complete resection at the time of the first surgery.
Can you tell us about your training?
I originally come from England and trained at the Royal Veterinary College (RVC) in London. For two years after graduation I worked in mixed animal and small animal practice before returning to the RVC for an internship in small animal medicine and surgery. Afterwards, I completed a surgery residency at Texas A & M, then clinical and research surgical oncology fellowships at Colorado State University. I have enjoyed moving to the Midwest with my two border collies (Kipper and Fly) to work at University of Illinois.
I became interested in surgical oncology early in my residency when I saw that pets with cancer were the patients that I could help the most.