Faculty Spotlight: Julia Whittington, DVM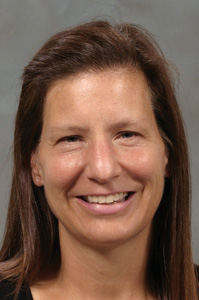 Julia Whittington is a clinical associate professor, head of the companion exotic animal medicine service, and director of the Wildlife Medical Clinic.
Are there any new procedures you're using to treat exotic animals?
The field of zoological medicine is constantly evolving, with new advances and applications of tried and true technologies to new species. Hormone therapy, dietary management, and environmental modification are being used more to manage disorders in exotic pets that were once treated surgically.  Additionally, exotic pets are living longer and leading healthier lives, which is creating a need to provide geriatric care to these important family members. Wellness exams are critical for these patients and are recommended on a semi-annual basis. Many of these species are adept at hiding illnesses until at a critical state. Helping pet owners identify medical facilities that can offer comprehensive patient care in an emergency situation is invaluable.
Tell us how you went from cop to veterinarian.
I grew up in DeKalb, Ill., and worked with a veterinarian there who was primarily a small animal vet, but who would see any species in need of care. He reinforced for me, what I knew from a young age, that veterinary medicine was my chosen career. However, my path to vet school was detoured after completing two years of my undergraduate degree in biology at the University of Illinois. I became a law enforcement officer with the U of I Police Department, successfully completed police training, and served the campus community in that capacity for the next seven years.  Working the night shift allowed me to continue my undergraduate coursework as a part-time student with a major focus on ecology, ethology, and evolution. During that time my passion for birds developed. I received my BS degree from the University of Illinois in 1993, 10 years after enrolling as a freshman, and was admitted to the veterinary medicine class of 1997, bringing my law enforcement career to an end. I worked as an associate veterinarian in the Champaign-Urbana community for four years prior to returning to the College of Veterinary Medicine to oversee the Wildlife Medical Clinic and to develop an in-house pet exotics service for the Veterinary Teaching Hospital.
Tell us about your favorite type of species to treat and why.
I'm asked "what is your favorite species?" all the time. To be honest, I don't have one. Ferrets are resilient and rewarding to treat. Parrots are so intelligent and interactive that they are almost like little children. I have a special place in my heart for guinea pigs. Of course, wildlife species are so amazing in their unique adaptations for survival in their habitats.
What have you been writing about recently?
I'm very excited to have recently contributed a chapter for a soon-to-be-published book dealing with wildlife care for veterinary practitioners. Veterinarians are exceptionally trained medical professionals and the skill they possess can be invaluable to helping wild animals in need of care. However, certain unique aspects of caring for wildlife need to be considered. This reference text will serve as an excellent resource.
What would you like to share about the Wildlife Medical Clinic? 
As the director of the Wildlife Medical Clinic, I am continuously amazed by the generosity and talent of the students who volunteer their time to care for over 1,600 animals each year. This participation is all extra-curricular but the experience they receive is a tremendous asset to the professional growth. This training is just one of the services that has been provided by the clinic since its foundation in 1978. We continue to care for any injured, ill, or orphaned wild animal that is presented to the Veterinary Teaching Hospital for care,  24/7, at no cost to the finder. The clinic receives animals from all over the state and we work closely with several licensed rehabilitators to return these patients back to their natural habitat. Our operating budget is approximately $130K annually and we are dependent on gifts, grants, and donations to meet this need. We are very happy to supply information about the Wildlife Medical Clinic and its activities for you to share with your clients. Additionally, the clinic has an active website with numerous resources and Facebook and Twitter feeds that you can participate in. We need and value your support to continue this important work.