Are you interested in animals, medicine, and science? Do you like helping people?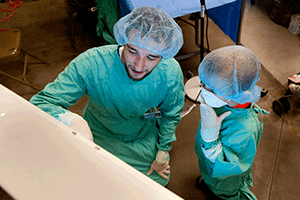 If so, then veterinary medicine may be for you.
Veterinarians are dedicated to improving the health and well-being of both animals and humans. You will need to solve problems and work with people on a daily basis.
FAQs
What courses should I take in high school?
Focus on a college preparatory program that includes all major subjects (English, history, languages, etc.), and be sure to include as much as you can of biology, chemistry, physics, and math.

What would be the best undergraduate college to attend?
Choosing the right college is a very important life decision. Take your time and research your options. Use the college guides and apply to the colleges that best suit you with regard to size and academic demand. A "good fit" will likely result in academic success. Resist choosing a college based on its athletic achievements or its social atmosphere if you are serious about attending veterinary college.

What should I study in college?
You should choose a major you will enjoy studying and building a career around in case you are not accepted into veterinary school. Your studies should be planned to provide the opportunity to take many science courses including biology, chemistry, and physics with laboratory components.
When can I enter the College of Veterinary Medicine?
Veterinary students generally complete their four-year undergraduate college experience and earn their bachelor's degree. Completion of a Doctor of Veterinary Medicine degree requires four years of additional study. We have an option whereby students can apply for admission before completing their undergraduate studies. Few students choose this option and only a very few are admitted under it.
Is veterinary clinic experience or animal care experience valuable?
Students should start out working or volunteering for a veterinarian, zoo or local animal shelter. Try to gain experiences with many animal species, not just cats and dogs. Also, pay attention to the roles of the doctors and technicians.
Track the hours of experience you gain and consider keeping a journal. When you apply to veterinary college you will need to articulate all of the animal experiences you have had as well as write a personal statement. A journal describing the learning you have acquired will be a valuable resource during this process.
What kinds of careers will be available to me?
A significant percentage of veterinary graduates are engaged in private practice individually or as a partner in a group clinic. There are small animal (focusing on dogs and cats) and large animal (horses, cattle, pigs) practice opportunities.
There is also the chance to work in areas of food safety, public health including bio-terrorism research, animal disease control, and the military.
Private industry offers exciting opportunities for the DVM in the fields of nutrition and pharmaceuticals such as conducting research for new products for animals, analyzing drug effects, nurturing the well-being of laboratory animal colonies.
Other career areas include zoo animal medicine, food resource management, marine biology, and wildlife preservation
Suggested Reading
A selected bibliography of books about veterinary medicine and those who practice it compiled by Betty Brown and Gretchen Stephens of the Veterinary Medical Library at Purdue University.

Biographies/Profiles
Balliet, Gay Louise. Touched by all creatures: doctoring animals in the Pennsylvania Dutch country. Far Hills, NJ: New Horizon Press, 1999.
Grant, David. Just practicing: early days as a country vet. London: Simon & Schuster, 1999.
Gutkind, Lee. An unspoken art: profiles of veterinary life. New York: Henry Holt and Co., 1997.
Gutkind, Lee. Veterinarian's touch: profiles of life among the animals. New York: Henry Holt, 1998.
Hart, Sue(Susanne). Dr. Sue, a vet in Africa. Randburg, South Africa: Raven Press, 1995.
Herriot, James. Every living thing. New York: St. Martins Press, 1992
Inglis, Joe. It really does happen to a vet! The journal of Joe Inglis in practice. London: Sidgwick & Jackson, 1999
Johnson, Pam. Hiss and tell: true stories from the files of a cat shrink. Freedom, CA: Crossing Press, 1996.
Jones, Theresa. True horse stories: adventures of vet practice. Tyler, TX: Equine Research, 2000
Karesh, William B. Appointment at the ends of the world: memoirs of a wildlife veterinarian. New York: Warner Books, 1999.
Kendall, Grant. Animals in my life: stories of a country vet. New York: Howell Book House, 1996.
Kendall, Grant. More animals in my life: stories of a country vet. New York: Howell Book House, 1998.
Lemonds, Leo L. Doc – my chickens are dying!: memories of a Nebraska veterinarian. Hastings, NE: L.L. Lemonds, Service Press, 1996.
McCormick, John E. Fields and pastures new: my first year as a country vet. New York: Crown Publishers, 1995.
McCormick, John E. A friend of the flock: tales of a country veterinarian. New York: Crown Publishers, 1997.
McCormick, John E. The hero of the herd. New York: Crown Publishers, 1999.
McCormick, John E. Watch for a cloud of dust II: more memories of a Dixie Veterinarian. Ft. Atkinson, WI: W.D. Hoard, 1990.
Martin, John G. Doc, my tiger's got an itch: the true story of a Kentucky hill country veterinarian who occasionally runs away with the circus. Indianapolis: Guild Press of Indiana, 1996.
Martin, John G. Never a ho-hum day: stories about a Kentucky hill country veterinarian and his 'doctorin'. Carmel, IN: Guild Press of Indiana, 1998.
Porter, George A. Pet ER: memoirs of an animal doctor. Franklin, TN: Hillsboro Press, 1999.
Scanlon, Edward J. Animal patients: 50 years in the life of an animal doctor. Philadelphia: Camino Books, 2000.
Smith, M. McCoy. Never alone: the life and times of a country veterinarian. Nashville: Eggman Publishers, 1995.
Taylor, David. The patient elephant: more exotic cases from the world's top wildlife vet. London: Robson, (Distributor: Parkwest Pub., Jersey City, NJ) 1993.
Taylor, David. Vet on the wild side. New York: St. Martins Press, 1990.
Tufts University, School of Veterinary Medicine. Animal ER: extraordinary stories of hope and healing from one of the world's leading veterinary hospitals. New York: Dutton, 1999.
Vine, Louis L. Dogs are people, too. New York: Rivercross Pub., 1997.
Ward, F. M. Reflections of a veterinarian: don't follow me, I stepped in something. Waco, TX: Texan Press, 1995.
Wight, Jim. The real James Herriot: a memoir of my father. New York: Ballatine Books, 2000.
Zimmerman, Theodore. They can't talk, but they never lie: the making of a zoo vet. Lake Worth, Lantana Br., FL: Action Arts Press, 1995.
Careers
Carmenson, Blythe. Opportunities in zoos and aquariums. Lincolnwood, IL: VGM Career Horizons, 1998.
Careers in focus. Animal care. Chicago: Ferguson Pub. Co., 1998.
Careers with Zoos, animal science: your concern for animals can become a career for you. Chicago: Institute for Research, 1994.
Duncan, Jane Caryl. Careers in veterinary medicine. New York: Rosen Pub. Group, 1994.
Glen, Thomas B. The dolphin and whale career guide: a complete sourcebook for anyone wanting to get involved with dolphins and whales. Chicago, IL: Omega, 1997.
Marinelli, Deborah A. Careers in animal care and veterinary science. New York: Rosen Pub. Group, 2000.
Smith, Carin A. Career choices for veterinarians: beyond private practice. Leavenworth, KS: Smith Veterinary Services, 1998.
Swope, Robert E. Opportunities in veterinary medicine careers. Lincolnwood, IL: VGM Career Horizons, 1993.
Education/Program Admission
Association of American Veterinary Medical Colleges. Veterinary medical school admission requirements in the United States and Canada. West Lafayette, IN: Purdue University Press. 2000.
Crawford, Jane Diehl. The pre-veterinary planning guide. Bethesda, MD: Betz Publishing Co. 1995.
Gage, Loretta. If wishes were horses: the education of a veterinarian. New York: St. Martins Press, 1993.
McCarthy, John B., ed. Planning your veterinary career. Denver: American Animal Hospital Association, 1992.
Women in Veterinary Medicine
Drum, Sue. Women in veterinary medicine: profiles of success. Ames, IA: Iowa State University Press, 1991.
Larson, Phylllis Hickney, ed. Our history of women in veterinary medicine: gumption, grace, grit, and good humor. Littleton, CO: Association for Women Veterinarians, 1997.
For Young Readers
Bowman-Kruhm, Mary. A day in the life of a veterinarian. New York: PowerKids Press, 1999.
Burgan, Michael. Veterinarian. Mankato, MN: Capstone Books, 2000.
Ermitage, Kathleen. Veterinarian. Austin TX: Raintree Steck-Vaughn Publishers, 2000.
Flanagan, Alice K. Dr. Friedman helps animals. New York: Children's Press, 1999.
Greene, Carol. Veterinarians help animals. Plymouth, MN: Child's World, c1997.
Lauber, Patricia. Tiger has a toothache. Washington DC: National Geographic Society: Distributed by Publishers Group West, 1999.
Liebman, Daniel. I want to be a vet. Toronto: Firefly Books, 2000.
Maze, Stephanie. I want to be …. A veterinarian. San Diego: Harcourt Brace, 1997.
Ready, Dee. Veterinarians. Mankato, MN: Bridgestone Books, c1997.
Schaefer, Lola M. We need veterinarians. Mankato, MN: Pebble Books, 2000.
Schomp, Virginia. If you were a …veterinarian. Tarrytown, NY: Benchmark Books, 1998.